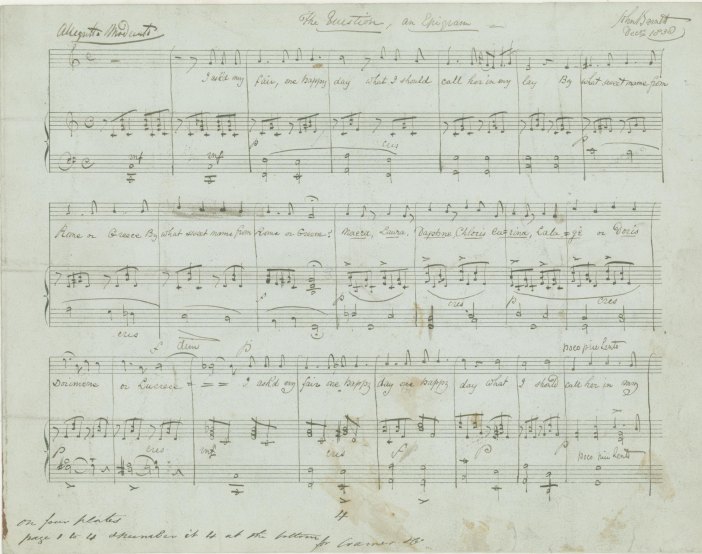 Click Image to Zoom
Enlarge Image
Barnett, John (1802-1890)
Manuscript "The Question, an Epigram".
Signed "John Barnett". December 1830. Oblong quarto. 3 pp. In very good condition; still quite crisp. Light creasing from former folding. A bit of spotting on first page. Just a few small penciled performance markings on pp. 2-3.
An autograph fair copy in ink of a song entitled The Question, an Epigram by English composer John Barnett, signed and dated by him at the upper right.
A note to the printer in another contemporary hand at the bottom of the first page reads:
on four plates | page 1 to 4 + number it at the bottom for Cramer
. We do not believe the song was ever published.
In C major and marked Allegro Moderato, the song sets Samuel Taylor Coleridge's 1799 English translation of Gotthold Ephraim Lessing's sweet poem Namen (Names).
Provenance: An album created by the Irish impresario Henry St. Ledger and later continued by the Irish composer Michael Balfe.
John Barnett's first major success was the opera The Mountain Sylph (1834), which enjoyed an initial run of 100 performances at the newly opened English Opera House (formerly the Lyceum Theatre). Many subsequent quarrels with theater managers and other musical contemporaries, though, resulted in Barnett's retreat from operatic composition. He spent the majority of his remaining career composing a great many songs, establishing a successful vocal studio, and publishing two method books on the art of singing, which he famously claimed could not be taught in classes.
MAN-05880
$400