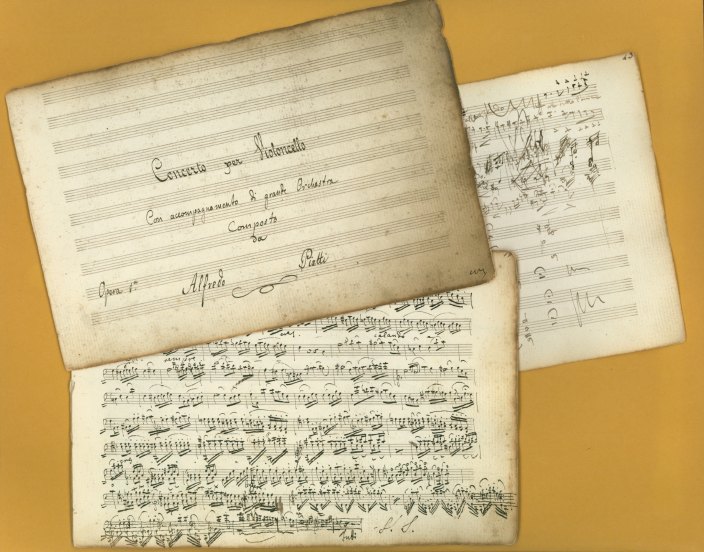 Click Image to Zoom
Enlarge Image
Piatti, Alfredo (1822-1901)
Autograph Sketchbook Signed
"Alfredo Piatti" on the titlepages of two works. Oblong octavo. 118 of 158 numbered pp. Contemporary marbled boards, spine worn, loose in binding, some leaves removed, one leaf with a section torn off the top. In a custom-made brown marbled modern box with black cloth spine (box cover rubbed in two places).
A personal sketchbook of the renowned Italian cellist, containing the solo part of his "Concerto per Violoncello, Op. 1", "Fantaisie Variée sur des motifs de Beatrice Senda, Op. 2", "Andante e Variazioni sopra un tema dell' Opera Lucia di Lammermoor, Con accompagnamento d'Orchestra, Op. 4", a few other complete works and many ideas and sketches for other original compositions, mostly for cello or cello and piano, but also including a few works for voice and accompaniment and one for violin, voice and piano. One sketch appears to be an arrangement for cello of a Beethoven sonata. Many pages contain deletions and corrections and most of the material is apparently unpublished.
Piatti had a long and influential career. He was a friend of many of the most prominent musicians of his day, including Mendelssohn and Liszt, who presented him with a Nicolò Amati cello [he later performed on the Stradivari now named after him]. He was the cellist of the Joachim Quartet from its inception in 1859 and, in addition to performing and composing, was a teacher, both privately and at the Royal Academy of Music. Piatti performed up until three years before he died at the age of 79. This rare sketchbook is very probably the only one of its kind in existence.
MAN-05810
$12,500