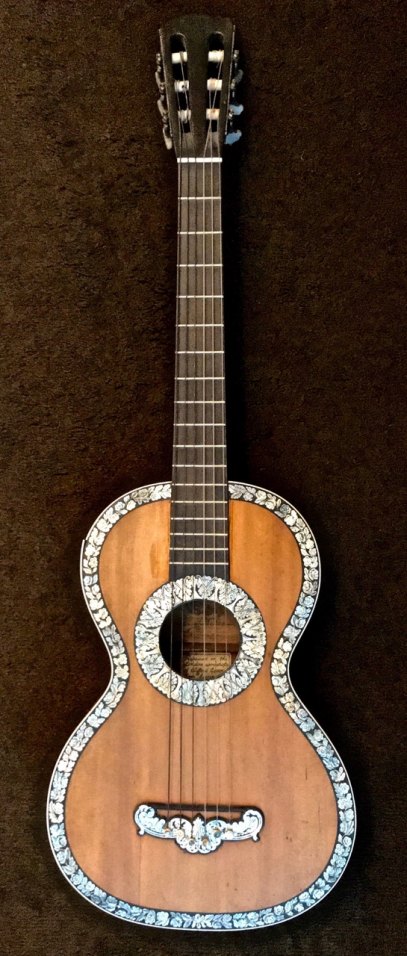 Enlarge Image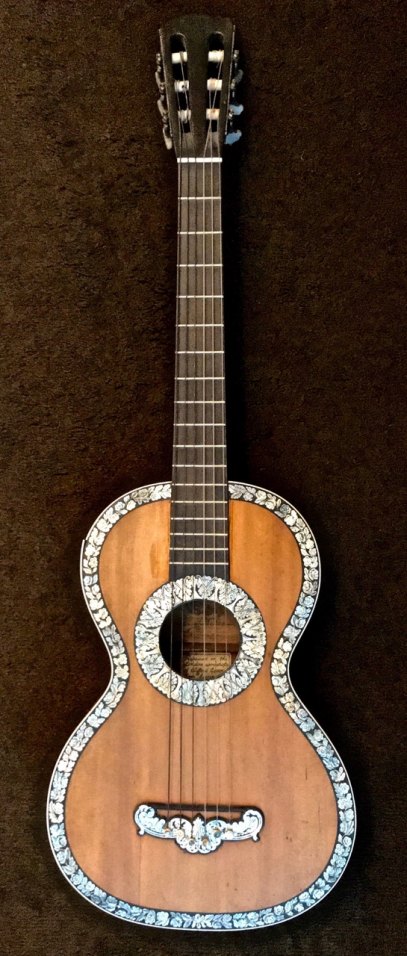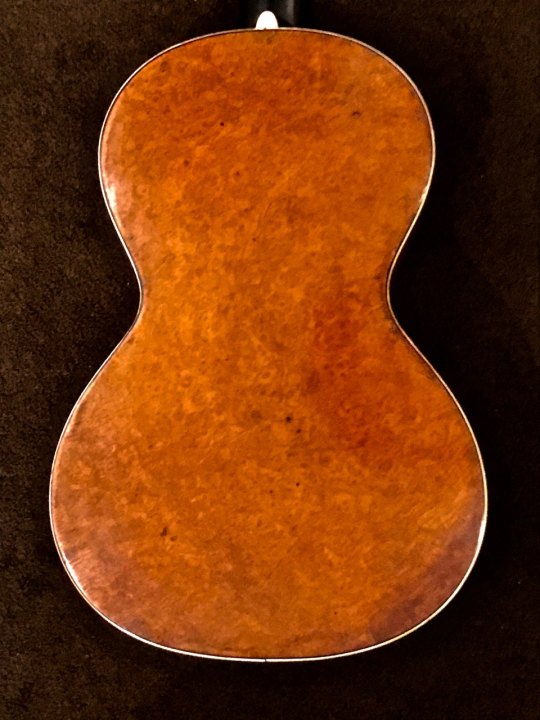 GUITAR - 19TH-CENTURY FRENCH
Gérard, Joseph
France, c. 1840. Total length: 36"(91.4 cm). One small repaired crack in the upper part of the top on the base side and the binding is loose in one place. Some early repair work on either side of the neck. Replaced frets. The instrument is in excellent playing condition.
A finely-made and beautiful French guitar with a long label which mainly reads: "Jh Gerard / from Paris / Manufacturer of GUITARS, VIOLINS, TENORS / VIOLINCELLOS, BOWS AND ORGANS"...LONDON...", all below a design with a variety of musical instruments. There is an additional repair label of Marco Roccia who worked in the London workshops of Clifford Essex. The two-piece top is of narrow-grained spruce widening towards the edges and has a wide band of mother-of-pearl floral decoration (appears to be roses and their leaves) around the outer edge and another decorative band around the rosette consisting of stylized leaves. The bridge is of unusual design and also has a stylized decoration though of a different design and retains its original ivory bridge pins with mother-of-pearl dots (one missing). The back and sides are of finely-burled elm (?). The banding, on both front and back, is ivory with ebony purfling. Deluxe machine-head tuning with decorative plates and solid mother-of-pearl scalloped touches. The side of the neck is inlaid with fret markers of mother-of-pearl which are in turn engraved with numbers 1-11. The neck and slotted head stock are veneered in ebony.
This instrument is a lovely example of French guitar making of the period and is in our opinion, with the exception of the frets, entirely original. Unfortunately, we have been unable to trace any significant information on this maker; we have not found him listed in any contemporary or modern source which we find very unusual for such a finely crafted instrument with such a label. However, there is another guitar by him in the Royal College of Music in London.
INS-14123
$7,500