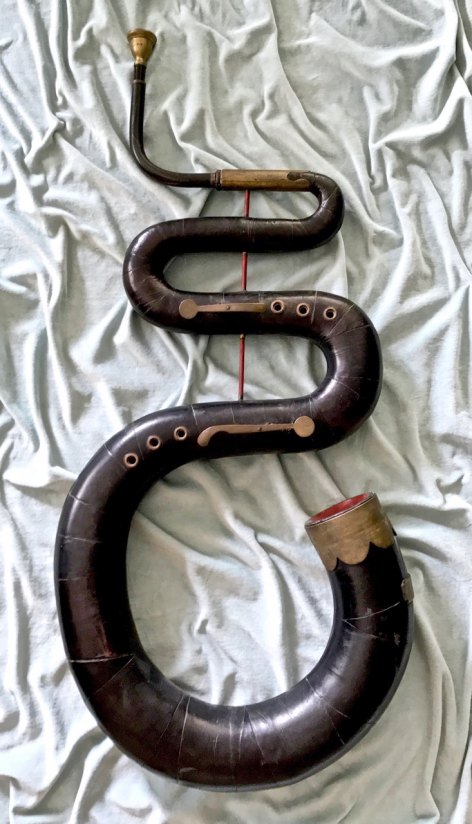 Click Image to Zoom
Enlarge Image
SERPENT
18th-century english serpent
England, 1798. Height: 28.5" ( 72.4 cm). Greatest width: 17" (43.2 cm). In unusually good condition, only needing minor adjustments for performance purposes.
An English military leather-covered serpent with two round-flap brass keys and six tone holes with brass bushings. The lead pipe, which is covered with sewn leather (unusual), fits ino a decorative brass collar. The center of the upper three "folds" are braced with red-painted brass rods. The brass scalloped bell collar is engraved with the date 1798 with a monogram below consisting of the initials "A C Y". Below this is a raised plaque which reads: " A.C. /
Yardley
", undoubtedly the name of the owner.
In our opinion the instrument is original in all parts with the exception of the brass trombone mouthpiece which is stamped: "F.A. SCHMIDT COLN". This mouthpiece itself is of some interest in that it was made c. 1848 by Friedrich Adolf Schmidt (1827-1893) of Cologne.
The history of the serpent is not altogether known. Some claim that it was evolved in Italy in the 16th century from the coretto and there is one colorful claim that it was specifically invented by a priest in France in 1590 as a way to embolden the sound of choirs in plainchant and/or, since the instrument was shortened from the original length, to make it easier to walk down the aisle in the church. In the 18th and 19th centuries, it was used in military bands as well as orchestras but eventually replaced by the ophecleide. It has enjoyed somewhat of a comeback in the 20th century.
INS-12697
$10,000