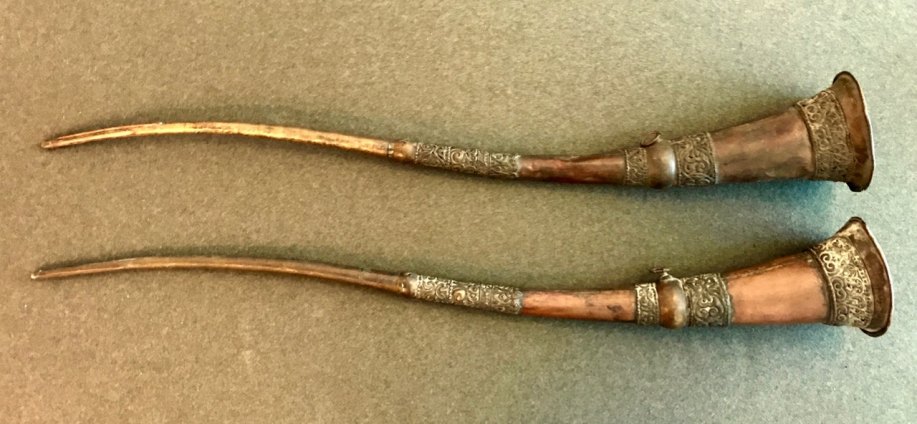 Click Image to Zoom
Enlarge Image
TRUMPETS USED IN FILM "LOST HORIZON"
Tibetan curved temple trumpets
Tibet, with good age. c. 33" long (83.8 cm) with a bell diameter of 4.75" (12.1 cm). Mouthpieces missing, several cracks and dents. These were good-quality instruments and could be restored to their original splendor.
A pair of Tibetan curved trumpets called "Dung" used in monastic Bhuddist ceremonial rituals. Made in two telescoping parts of copper and brass, each with four decorative silver-plated brass bands of deep repoussé. Technically, these are horns because of their conical bore.
These trumpets, already considered antique at the time, were collected by Harrison Foreman (1904-1978) who made several extensive expeditions to Tibet. Foreman was an American photographer and journalist and wrote for
The New York Times
and
National Geographic
. He wrote his first of several books,
Through Forbidden Tibet
in 1935. His Tibetan instruments were used in Frank Capra's famous 1937 film
Lost Horizon
for which he was the technical advisor.
These instruments were sold at Phillips New York in 1989, together with other artifacts from the Foreman collection. They are accompanied by a letter from the Phillips auction house manager attesting to the trumpets having been brought out of Tibet in Foreman's 1928 expedition.
INS-09764
$3,500