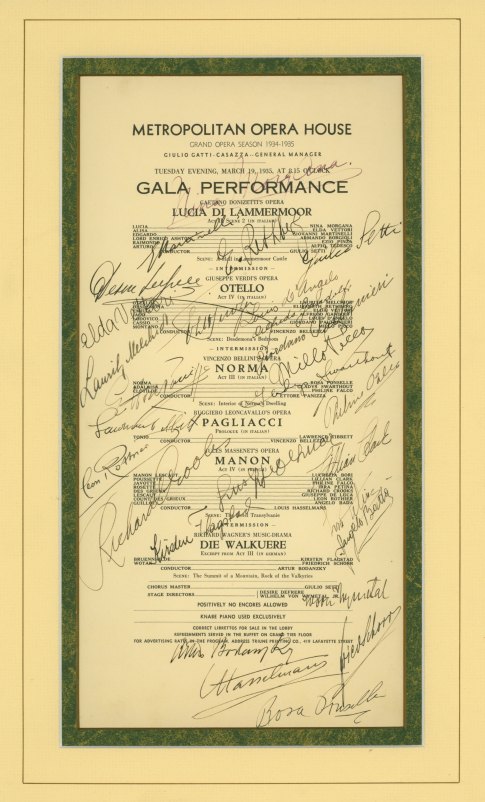 Click Image to Zoom
Enlarge Image
METROPOLITAN OPERA SIGNED 1935 PROGRAM OF GATTI-CASAZZA GALA
an extraordinary memento signed by all participants
March 19, 1935. In a decorative mat with a total size of 18.75" h x 12" w. Excellent condition.
A breathtaking unique moment in operatic history! This gala performance honored Giulio Gatti-Casazza shortly before his retirement after 27 seasons as the Met's general manager. The extended array of performances included excerpts from Lucia di Lammermoor, Otello, Norma, Pagliacci, Manon and Die Walküre. The splendid array of performers included 27 singers and 5 conductors and each has signed. Among the illustrious names are: Giovanni Martinelli, Nina Morgana, Elisabeth Rethberg, Lauritz Melchior, Rosa Ponselle, Gladys Swarthout, Lawrence Tibbett, Lucrezia Bori, Richard Crooks, Giuseppe De Luca, Leon Rothier, Kirsten Flagstad and Friedrich Schorr. The conductors include Giulio Setti, Vincenzo Bellezza, Ettore Panizza, Louis Hasselmans and Artur Bodanzky.
The reviews were, not surprisingly, ecstatic. B. H. Haggin wrote: "last night's gala performance at the Metropolitan provided me, completely unexpectedly, with one of the most exciting experiences I have ever had in a theater."
PGM-11269
$5,000