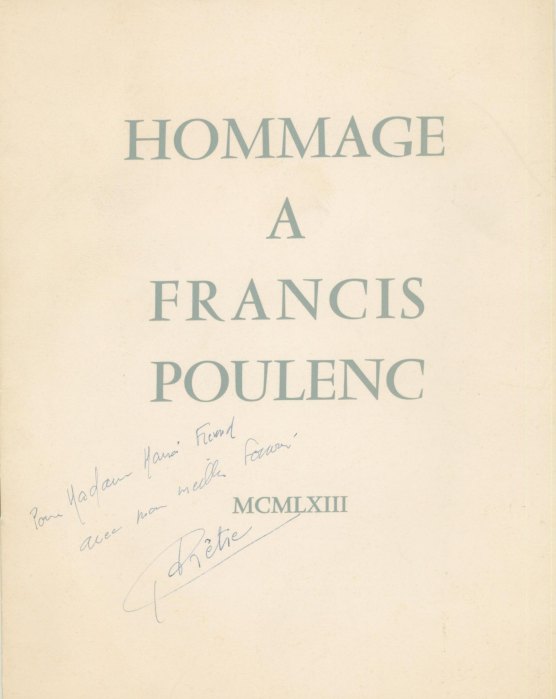 Click Image to Zoom
Enlarge Image
Prêtre, Georges (1924-2017)
Poulenc Memorial Concert Program Booklet Signed "G Prêtre".
Paris, December 10, 1963. Quarto. 8 pp. In very good condition. Wrappers with some light creasing and minor spots.
Good example of the Prêtre-Poulenc connection.
The great French conductor signs and inscribes the front cover of a program booklet for the Hommage A Francis Poulenc concert given at the Théatre des Champs-Élysées in December 1972 to Polish soprano Marya Freund, who was a good friend of Poulenc and often sang his songs. The booklet contains the event's program, glossy black-and-white images of Poulenc and Prêtre, and extensive program notes by Henri Hell.
Georges Prêtre was well known as a conductor of Poulenc's music: he premiered the composer's La voix humaine at the Opéra-Comique in 1959 and led the first French performance of Sept répons des ténèbres in 1963. Decades later, in 1999, he also directed a series of concerts in Paris to mark the centenary of Poulenc's birth.
PGM-09166
$150