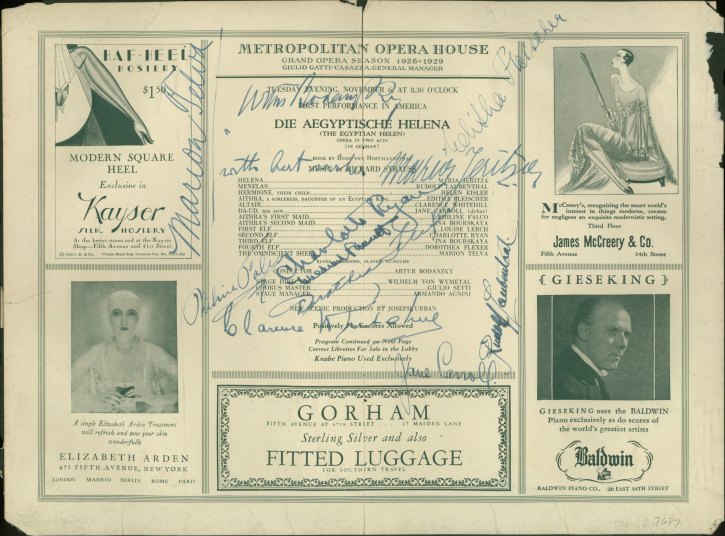 Click Image to Zoom
Enlarge Image
METROPOLITAN OPERA SIGNED 1928 PROGRAM OF DIE AEGYPTISCHE HELENA
La Juive on verso
November 6, 1928. Total measurement of 10" h x 13.5" w. Both laid down on black album leaf, top of center fold split (also at very top of La Juive), a few chips & small tears; otherwise in good condition.
The first performance in America
. Signed by Jeritza, Bodanzky and others.
On verso is Halévy's La Juive signed by Easton, Martinelli, Rothier and others.
A unique souvenir from the opening night of the first Metropolitan Opera production (and North American premiere) of Richard Strauss's
Die aegyptische Helena
– a program centerfold for the performance signed by most of the cast and the conductor, Artur Bodanzky. Maria Jeritza, who sang the title role, scrawled "with best wishes" before her signature in the center of the page. Also signing were Rudolf Laubenthal (Menelas), Editha Fleischer (Aithra), Clarence Whitehill (Altair) and Jane Carroll (Da-ud), as well as featured singers Philine Falco, Dorothea Flexer, Charlotte Ryan and Marion Telva (plus an unbilled Mildred Parisette).
On the verso is a program centerfold from the Nov. 3, 1928, performance at the Met of Halevy's La Juive, the first of the opera's three performances in the company's 1928-29 season. In addition to conductor Louis Hasselmans, all five principals in the cast signed – Florence Easton (Rachel), Giovanni Martinelli (Eleazar), Leon Rothier (Cardinal Brogni), Charlotte Ryan (Princess Eudoxia) and Alfio Tedesco (Leopold) – as well as featured singers Millo Picco, William Gustafson, Paolo Ananian and James Wolfe.
PGM-07687
$400