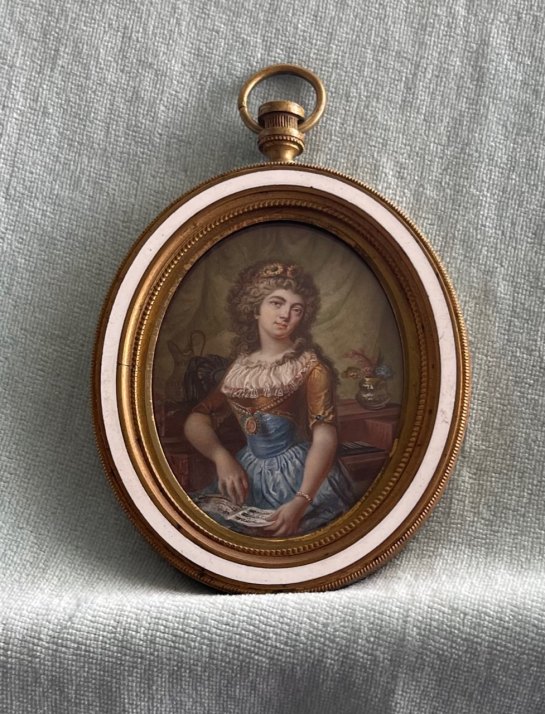 Enlarge Image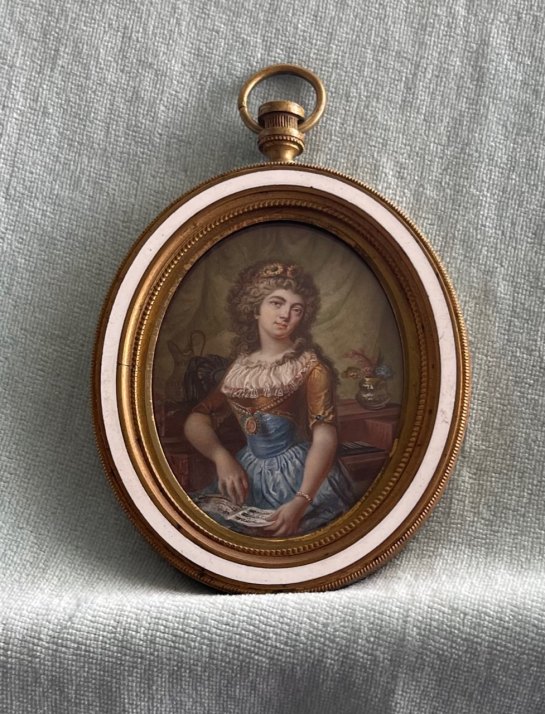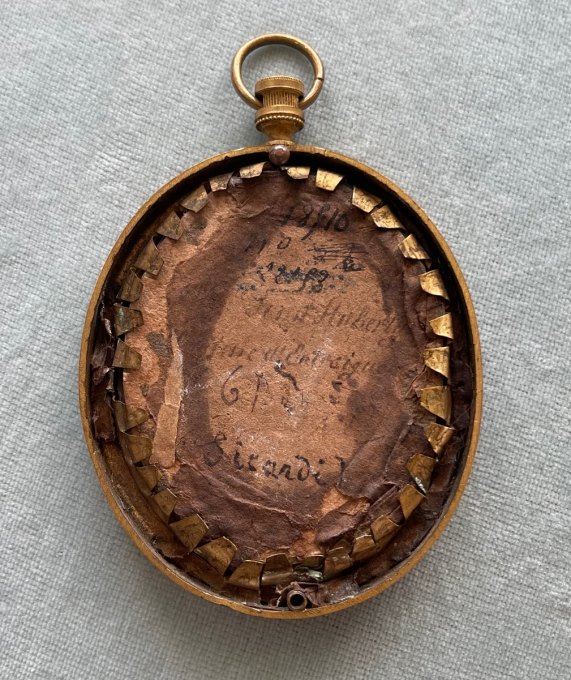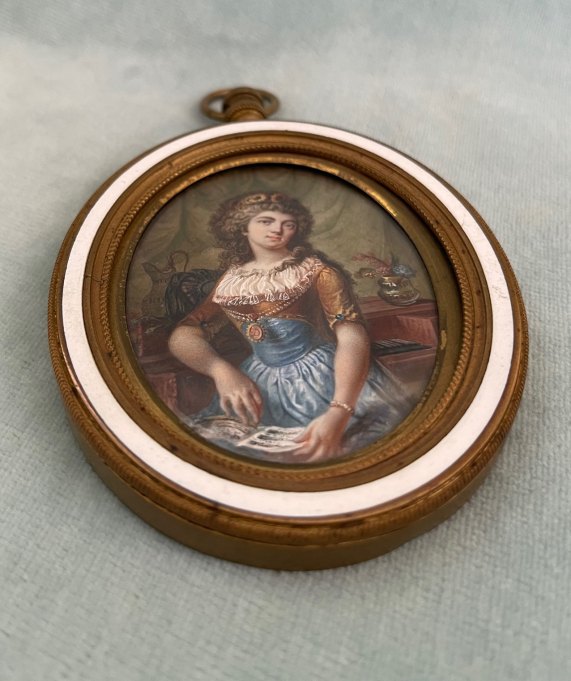 Saint-Huberty, Antoinette (1756-1812)
Portrait Attributed to Louis Marie Sicardi.
Mid to late 1780s, oil on ivory. Total length of frame from hook to base: 4.5". Total length of portrait: c. 2.75". In what is apparently the original frame of beaded gilt with inlaid border of ivory (?). In excellent condition.
A fabulous portrait of a fabulous lady.
A truly exquisite miniature of the famous French soprano, Antoinette Saint-Huberty, attributed to Louis Marie Sicardi and dating to the late eighteenth century. Saint-Huberty, a notoriously difficult diva, sits facing the viewer with a score in hand and a keyboard behind her. Atop her vibrant blue dress she wears a pearl pendant bearing the letter D, a reference to her most celebrated role, Didon, in Piccinni's opera of the same name. She created the role in 1783 to such acclaim that King Louis XVI offered her a pension that very evening.
Born Ann-Antoinette-Cécile Clavel, just 11 months after Mozart, Saint-Huberty was a brilliant opera singer whose biography reads stranger than fiction. She began her career as a child prodigy before falling head over heels for M. de Saint-Huberty, an imposter using a false name and passing himself off as someone looking for talent for the King of Prussia. After their marriage he abused her terribly, but her first major operatic successes, which she won at the Polish court, secured her a large enough income to divorce him. She would keep his name as her stage name, though, for the remainder of her career.
Making her way to Paris, she met and became a protégé of Gluck, making her debut at the Paris Opéra in 1777 as Melissa in his opera Armide, and establishing herself as one of the opera's leading ladies within just a few years. As her stature grew, so did the trouble she caused: tantrums over pay, disagreements over scheduling, and complaints about her health frustrated the management throughout nearly every season in which she sang. But her success was indisputable; even Louis XVI -- a known opera dodger -- heard her sing Didon no fewer than three times.
Saint-Huberty fled France during the Revolution with her paramour, and then husband, the Comte d'Antraigues. Exiled because of politics, d'Antraigues became the European agent for the Bourbons. In the chaotic years that followed, Saint-Huberty shared his adventurous life, traveling to Spain, Germany, Austria, Russia, and Italy, where Napoleon put him in prison. Napoleon rejected Saint-Huberty's request for his release and it is documented that, in a tête-à-tête, she called Napoleon to his face the new Robespierre. After several itinerant years the pair at last settled in England, where they were murdered by their servant in 1812. The reasons behind the attack remain unclear, although contemporary rumors blamed the British government and Napoleon.
Louis Marie Sicardi (1743-1825) was a French portraitist favored by Louis XVI and Marie Antoinette for his miniatures. Despite the political turmoil of his day, Sicardi remained successful throughout the Revolution, Empire, and Restoration, exhibiting multiple times at the Salon between 1791 and 1819. Although this lovely miniature has been claimed by some as being his work, we are not positive of the attribution. Nonetheless, the claim is understandable given the high quality of the workmanship.
ODA-15579
$6,500