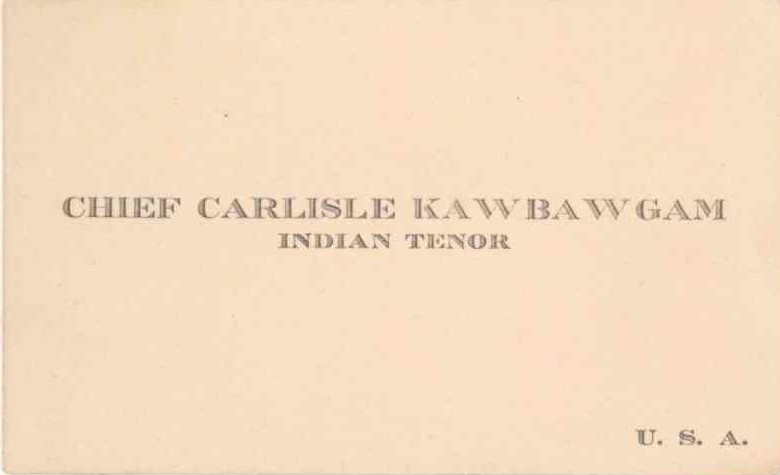 Click Image to Zoom
Enlarge Image
AMERICAN INDIAN
Kawbawgam, Chief Carlisle
n/d. c. 2.25" h x 4" w. In excellent condition.
An unsigned visiting card of Carlisle Kawbawgam, the Native American vocalist who toured extensively as a vaudeville performer and briefly attempted an operatic career. This card is exceedingly rare.
As a young man, Kawbawgam studied medicine at Yale and worked as a doctor in Washington, D.C. He took performance gigs to supplement his income and his vaudeville success quickly eclipsed that of his practice. He soon secured engagements to sing all over America and Europe.
In 1912, Kawbawgam traveled to Germany and Austria for vocal instruction so that he might transition from vaudeville to opera. Upon receiving a cablegram from Berlin on his progress, the New York Times reported in December of that year that Kawbawgam is 26 years old and possesses a tenor voice of the richest quality. His voice is at present in a state of inartistic development, but is so resplendent in natural strength and beauty that the critics are unanimous in saying that he is destined eventually to rank among the world's greatest tenors. Despite his popularity and noted ability, Kawbawgam's opera career never seems to have taken off.
ODA-15288
$150