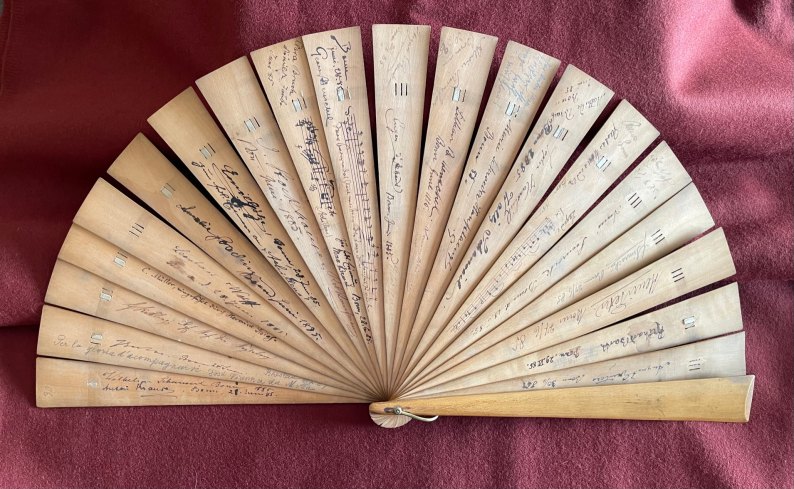 Enlarge Image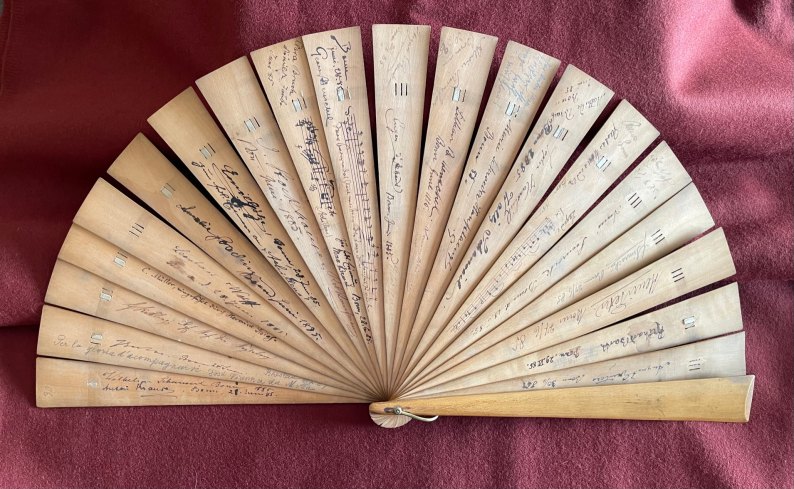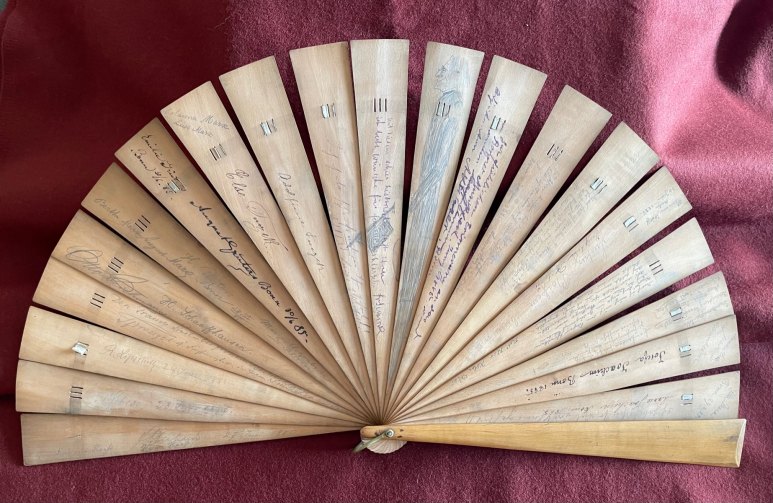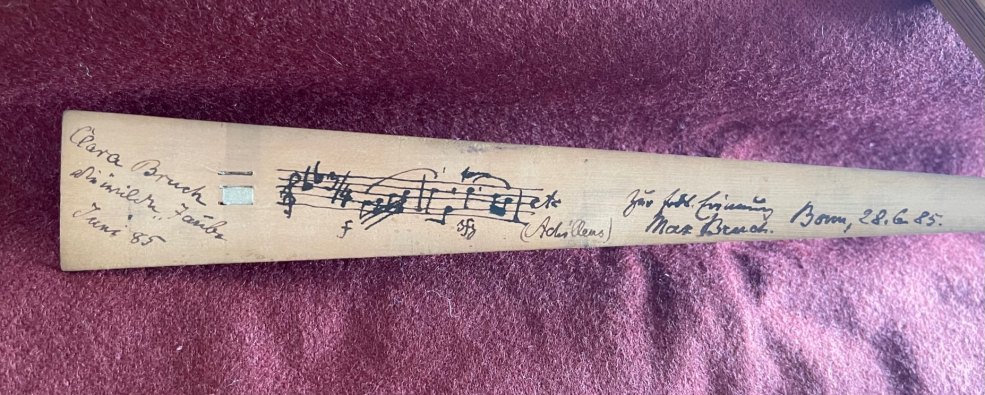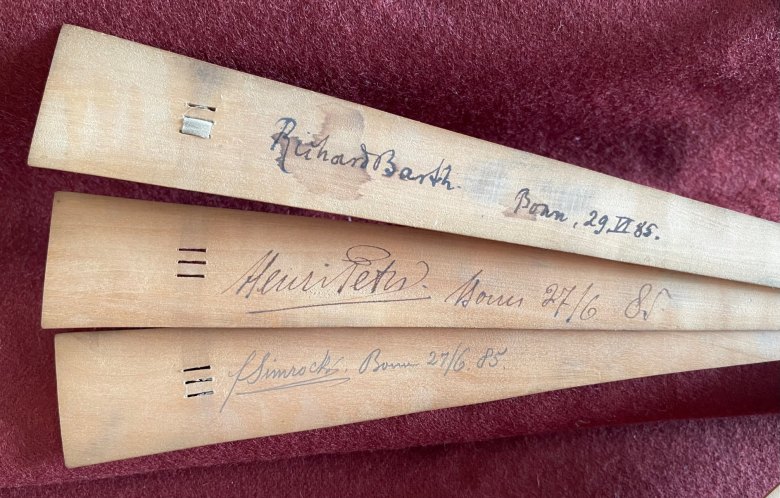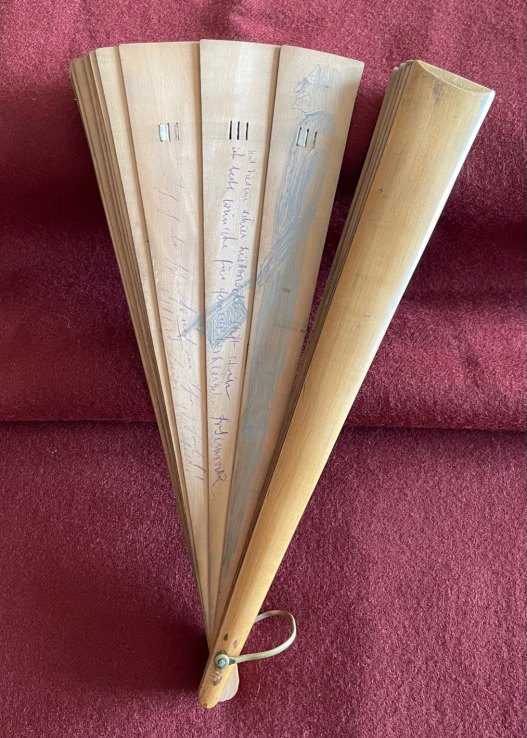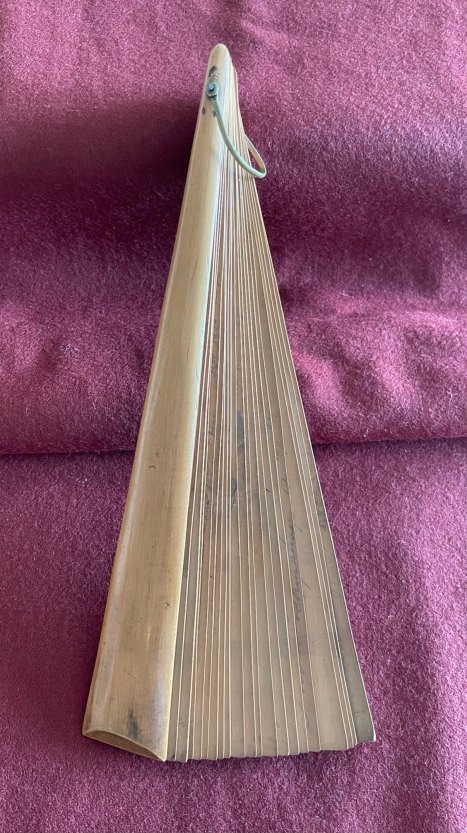 FAN - BRAHMS & BRUCH - BONN MUSIKFEST 1885
June 1885. 11" long; blades 1.5" at widest end. In excellent condition. Silk ties missing. Signature of Richard Barth with water damage (but still legible). Sandalwood blades, each of which bears at least one signature on each side (excepting three blades containing a caricature of Liszt). Almost all signatures note the date and/or place. There are also a handful of autograph musical quotations and brief inscriptions (noted below).
A remarkable fan signed by performers and attendees of the Bonn Musikfest 1885, including Johannes Brahms, Max Bruch, Eugen d'Albert, Amalie Joachim, George and Lillian Henschel, and Fritz Simrock.
This charming fan was the idea of American-born soprano Lillian Bailey Henschel (1860-1901), who was in an advantageous position to assemble it. It was fashionable in the late Victorian era to gather signatures on fans, but this particular fan is interesting because of its singular focus: almost all the signatures were obtained at the Bonn Musikfest in 1885, where Lillian's husband, pianist-baritone Sir George Henschel, figured prominently on the program.
The festival was held at Beethoven-Halle from June 28 to June 30. The first day saw the premiere of Max Bruch's oratorio Achilleus; the second and third presented programs of a host of German composers ranging from Handel to Beethoven to Brahms. (A copy of the program, which we have reconstructed from a review in the Neue Musik-Zeitung, is included). More than 430 singers and 100 instrumentalists performed over the three days.
Nearly all of the soloists who performed at the festival have signed the fan: Achilleus premiere singers George Henschel (with AMQ), Amalie Joachim, Marie Schroeder-Haustaengl, and Emil Götze, as well as conductor Leonhardt Wolff; Max Bruch (with Achilleus AMQ), who conducted on the third day, and on the same blade, his wife, Clara Bruch, who sang a number of songs; and Eugen d'Albert, whose performance of one of Brahms' piano concertos was a noted highlight.
Among the attendee signatures are: Johannes Brahms, a good friend of the Henschels and who attended at least the Achilleus premiere (based on the review, it seems he missed d'Albert's memorable performance of his concerto); German violinists Richard Barth and Gustav Hollaender (with AMQ); Dutch violinist Henri Petri; publisher Fritz Simrock (with inscription); German cellist Alwin Schroeder; American soprano Lillian Henschel; German Lieder singer Julius Stockhausen; Norwegian hymnwriter Gustav Jensen; Portuguese pianist José Vianna da Motta (signed four years later, with brief inscription, on the same blade as Brahms); German composers Wilhelm Schauseil and Anton Krause; German music arranger August Grüters; German impresario Hermann Wolff; and German art collector Sulpiz Boisserée.
The festival was, evidently, a family affair, as several relations of the above-listed also signed the fan: Marie and Josefa Joachim (daughters of Joseph and Amalie; the girls were only 17 and 16 at the time); Mathilde Bruch (sister of Max); additional Simrocks (identified only as J. and A.); Adolphine and Else Tuczek (likely relations of Clara Bruch, née Tuczek); and Emilie Grüters (presumably the wife of August). Sophia Hanslick also signed a blade; one presumes her husband, noted critic Eduard Hanslick, was at the festival even though his signature is not included.
There is also a delightful but unattributed penciled caricature of Liszt spanning across three of the blades (see images). Several additional signatures are present but difficult to identify.
PROVENANCE: The collection of the Polish singer Marya Freund (via her son, baritone Doda Conrad). Sir George Henschel was Freund's uncle.
The soprano Lilian Bailey Henschel was born in Ohio but later moved to Boston, where she made her debut at age 16. She studied in Paris in 1887 with Pauline Viardot-Garcia and in 1879 she performed a duet in London with George Henschel. He became her teacher and they were married in 1881, the same year that Henschel was appointed first conductor of the Boston Symphony. George and Lillian shared a colorful life, traveling in elite musical circles on both sides of the Atlantic and occasionally performing together. Lillian seems to have enjoyed asking for signatures on fans, because we know of at least one other gathered by her (bearing the signatures of Brahms and both R. and J. Strauss, among others, it sold just last year for close to $6,000).
EPH-16037
$5,000