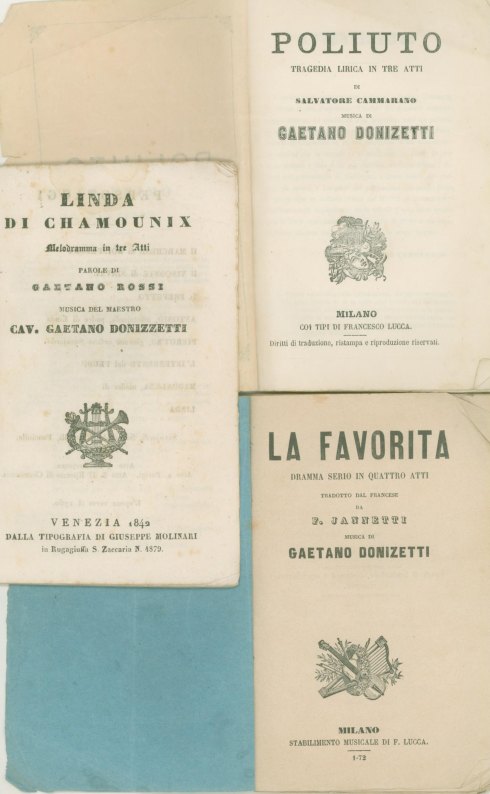 Click Image to Zoom
Enlarge Image
Donizetti, Gaetano (1797-1848)
Three Early Librettos: La Favorita, Linda di Chamounix, and Poliuto
16mo. All with original paper wraps. Set in good condition and quite clean internally. Many corners creased or slightly chipped (the paper is quite thin). Favorita front wrapper with dealer stamp and loss to upper-right corner; Poliuto front wrapper a bit stained with small tear at right.
A nice set of three early librettos for three popular Donizetti operas:
La Favorita. Dramma in Quattro Atti. F. Lucca: Milan, [likely c. 1841, based on plate number]. 36 pp. Pl.n. 1945. [Premiered Paris, 1840; date of Milan premiere unclear].
Linda di Chamounix. Melodramma in tre Atti. Giuseppe Molinari: Venezia, 1843. 31 pp. [Premiered Vienna, 1842; first reached Venice during the Carnival season of 1843].
Poliuto. Tragedia Lirica in Tre Atti. F. Lucca: Milan, [1848, as per WorldCat]. 32 pp. Pl.n. 3023. [Italian version premiered posthumously in Naples, 1848; date of Milan premiere unclear].
BKS-16033
$250