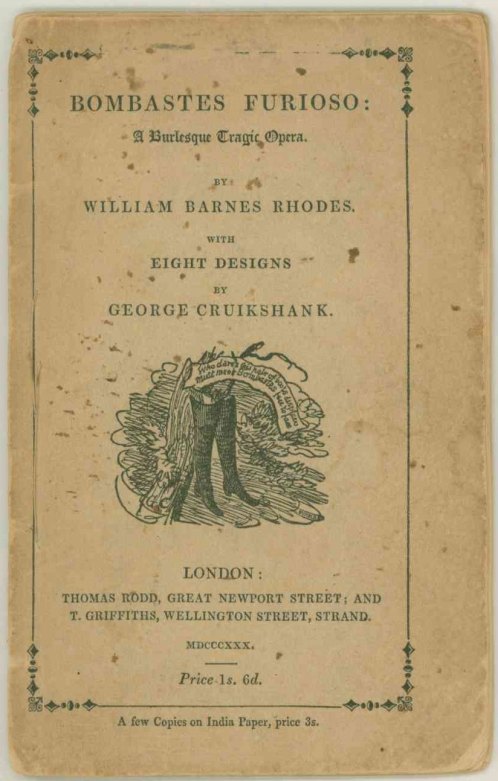 Click Image to Zoom
Enlarge Image
Rhodes, William Barnes (1772-1826) and George Cruikshank, illustrator.
Bombastes Furioso: A Burlesque Tragic Opera. [Libretto].
Thomas Rodd and T. Griffiths: London, 1830. Early edition. 16mo. 35 pp. Eight illustrations. Paper wraps. In good condition. Front wrapper with some spotting; backstrip missing. Internally very clean.
An early copy of this popular play with music featuring eight comic illustrations by George Cruikshank. The work satirizes the over-the-top style of dramatic tragedies in vogue during the early nineteenth century: the protagonist, a certain unhinged General Bombastes, ignites a laughable string of murders by challenging anyone who dares to move a pair of boots that he has nailed to a tree.
Bombastes Furioso, written by the English author William Barnes Rhodes, premiered at the Haymarket Theatre on August 7, 1810 with music by an anonymous source. Despite the play's immediate success, the first edition did not follow until 1822.
BKS-15508
$100