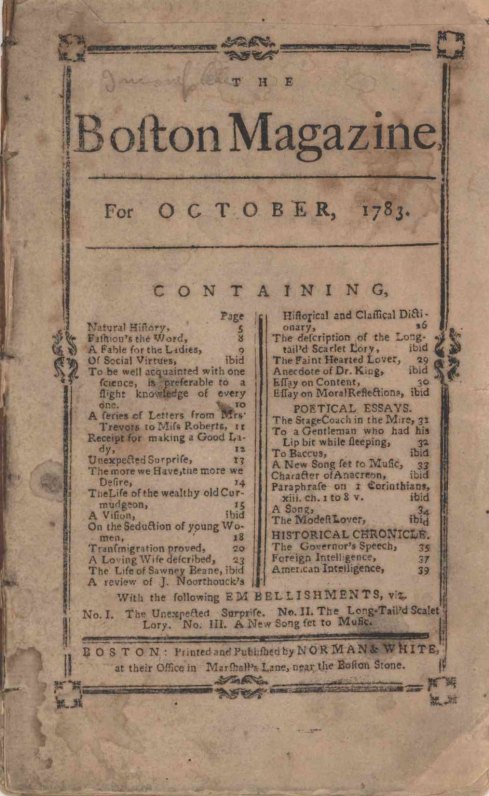 Click Image to Zoom
Enlarge Image
BOSTON MAGAZINE - EARLY AMERICA
The Boston Magazine
Norman & White: Boston, October 1783. Octavo. Disbound. In very good condition, especially for ephemera of its age. Title page lightly soiled with only occasional stains internally. Last ten pages detached. Folding plate with small tear at center (music affected but legible). Page 5 with a few markings in a contemporary hand; the page was also bound askew and the righthand margin is consequently trimmed so that it is missing just a few letters.
The very first issue of The Boston Magazine, published just one month after the signing of the Treaty of Paris, which ended the Revolutionary War.
This issue includes a folding plate of "A New Song" by an A. Hawkins that sets the charming text:
Throw an apple up a hill, Down the apple tumble's still; Roll it down it never stops, 'till within the vale it drops, So are all things prone to love, all below and all above
.
It is remarkable to think that this very booklet was read by the first citizens of the new nation. The Historical Chronicle on pages 35 and 36, by none other than John Hancock, reflects on the point: Our country, after a long and arduous contest for her rights and independence, is at length blessed with peace. A peace…that closes such scenes of devastation and blood as we have beheld…I hope that ardent affection for liberty and independence, which has already carried us successfully thro' so many difficulties, will still animate us to act up to the grand intention, and the true spirit of the confederation.
The Boston Magazine was a monthly publication that ran from October 1783 to December 1786. Its columns engaged a wide variety of topics that encompassed politics, foreign and domestic news, history, morality, aesthetics, poetry, and literature. The magazine also often included a modest musical publication, as this issue does.
BKS-15315
$1,350