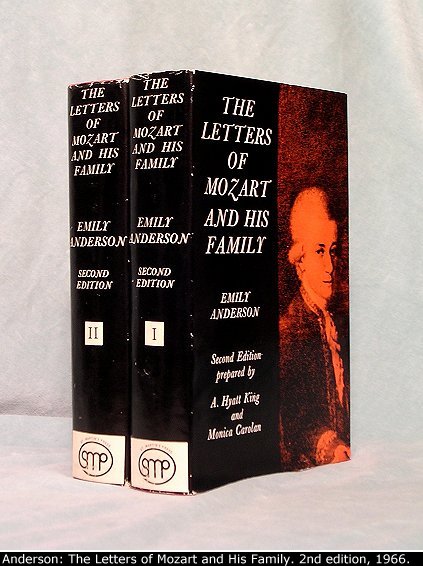 Click Image to Zoom
Enlarge Image
MOZART - BOOKS OF LETTERS
Anderson, Emily and et al.
The Letters of Mozart and His Family
Transl. & ed. by Emily Anderson. Macmillan: New York, 1966. Second edition, prepared by A. Hyatt King & Monica Carolan. Large octavo. Two volumes: 510 pp. & 1031 pp. Fourteen b/w plates including frontispiece portrait and three fold-out facsimiles of letters. Red buckram. Condition is excellent except for light wear to d/j and corners of slipcase. Former owner's name at lower right on title pages.
Anderson's definitive work first appeared in 1938. This second edition includes seven letters which have come to light since the first edition and is reduced in size from three volumes to two volumes by resetting the work in a contemporary format and removing the letters from Constanze Mozart to Johann Anton André.
BKS-09731
$150