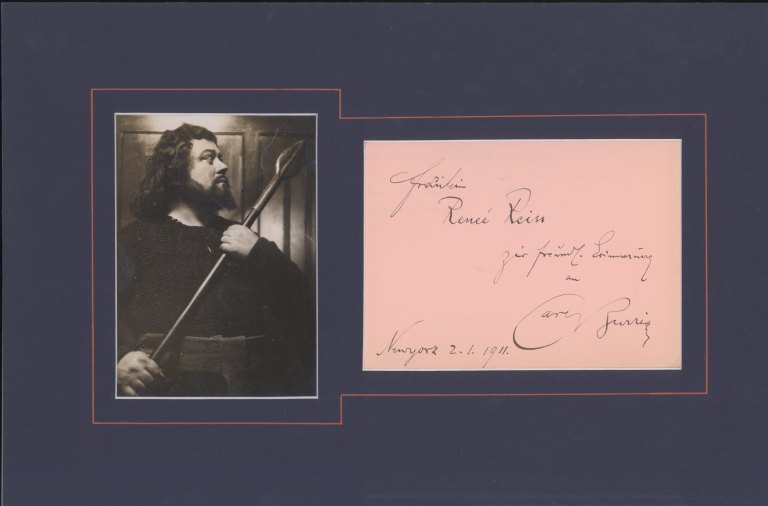 Click Image to Zoom
Enlarge Image
Burrian, Carl (1870-1924)
Ensemble with Signature and Photograph
Inscribed to Renée Reiss (daughter of tenor Albert Reiss). Total measurement of 11.25" h x 17.50" w. Very good condition.
Full signature on a pale pink album-leaf with greeting in German to "Fräulein Renée Reiss", dated "2.1.1911" in New York, matted with a reproduction photograph of Carl Burrian in costume as Parsifal.
The Czech heldentenor Carl Burrian began his career in Brno in such Czech works as Smetana's The Bartered Bride and Dalibor, but he developed as a Wagner tenor with opera companies in Germany and Austria. Between 1906 and 1913, he sang with great success at the Metropolitan Opera, always in Wagner except for performances of Salome and Fidelio. He was a favorite of both Gustav Mahler and Arturo Toscanini. On January 2, 1911, he sang Parsifal at the Met, Alfred Hertz conducting, with a cast that included Olive Fremstad, Pasquale Amato, Herbert Witherspoon, Otto Goritz and - as the Third Esquire - tenor Albert Reiss. Reiss's young daughter Renée apparently had Burrian sign her autograph album at that time.
SIG-09281
$135