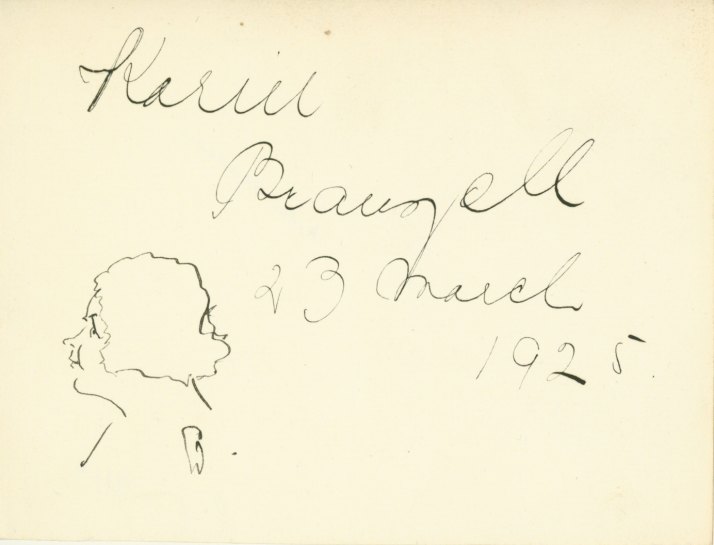 Click Image to Zoom
Enlarge Image
Branzell, Karin (1891-1974)
Autograph Self-Caricature Portrait Signed
"Karin Branzell". Dated March 23, 1925. Total measurement of 5.50" h x 7" w. Pristine condition.
Album leaf with bold signature of Swedish mezzo-soprano Karin Branzell, dated March 23, 1925, which she has embellished with a charming profile caricature of herself, also initialed.
The Swedish mezzo-soprano Karin Branzell had an impressive career in Europe - Richard Strauss chose her to create the role of the Nurse in Die Frau ohne Schatten - before making her Metropolitan Opera debut in 1924 as Fricka in Die Walküre. She remained an important singer on the Met roster through the 1943-44 season, returning in 1951 to sing Erda in a new Ring cycle; in all she sang 412 performances of 21 roles at the Met. Her friend Lauritz Melchior believed she was unequaled as Brangäne in Tristan und Isolde, a role she sang many times with Melchior and Kirsten Flagstad. In a Met performance of Die Walküre in 1925, Branzell - singing the role of Fricka - astonished her colleagues by then stepping in to sing the role of the title heroine Brünnhilde in Act III when the soprano became indisposed. She also sang the U.S. premiere of Mahler's Kindertotenlieder with Leopold Stokowski. After retiring, Branzell taught at the Juilliard School. Among her students were Met singers Nell Rankin, Jean Madeira and Mignon Dunn.
SIG-09114
$150