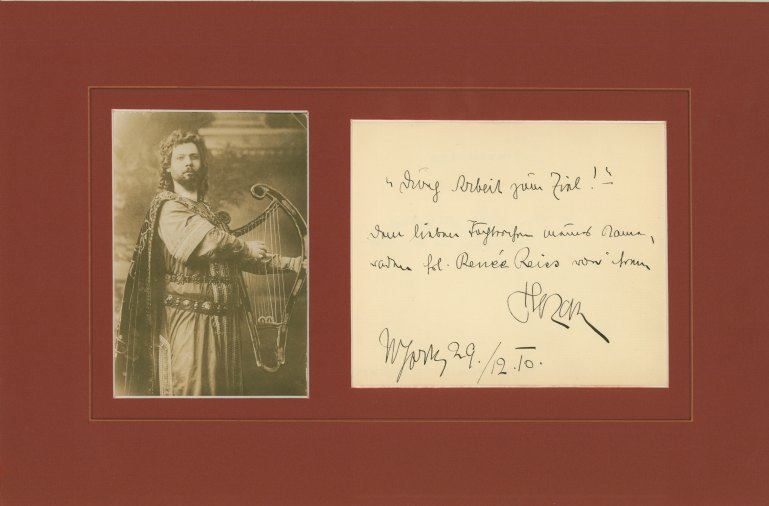 Click Image to Zoom
Enlarge Image
Slezak, Leo (1873-1946)
Ensemble with Signature & Photograph as Tannhäuser
Total measurement of 11.25" h x 17.25" w. Very good condition.
Full signature on album-leaf, with affectionate greeting to young Renée Reiss (the daughter of Metropolitan Opera tenor Albert Reiss), dated December 29, 1910, in New York, matted with an early reproduction photo of Slezak in costume and in character in the title role of Tannhäuser.
One of the most exciting, dramatic tenors of the early 20th century, Leo Slezak spent three busy seasons at the Metropolitan Opera between 1910 and 1913. The signature included here was probably obtained following the Dec. 29, 1910, performance of Tannhäuser, in which Slezak sang the title; Renée Reiss's father, Albert Reiss, had sung the role of Walther in performances of Tannhäuser early the same month. Earlier that year, when Slezak sang the role of Tannhäuser for the first time at the Met, W.J. Henderson of the New York Sun wrote, "He brought with him to last night's representation that profound love of Wagner's work and that beautiful devotion to high dramatic ideals which are displayed mostly by singers of Teutonic bearing. When these are coupled with splendor of voice, skill in tone production, clear enunciation and temperament, admirable and moving results may be expected … it must be accorded a place in the first line of Wagnerian portraits in the rich gallery that belongs to the history of the Metropolitan Opera House."
SIG-09097
$300