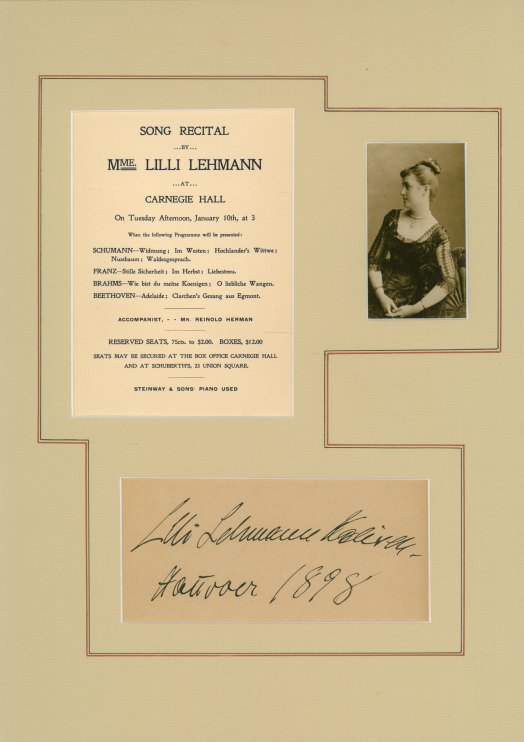 Click Image to Zoom
Enlarge Image
Lehmann, Lilli (1848-1929)
ensemble with signature, photo & recital program
Total measurement of 17.75" h x 15.25" w. Very good condition.
Full signature of her married name ("Lilli Lehmann Kalisch"), from "Hannover 1898", matted with an original carte de visite photograph in profile and program from one of Lehmann's many Carnegie Hall song recitals, dated January 10.
Few singers have enjoyed the long, historic career that defined the German soprano Lilli Lehmann. She sang a large and varied repertoire but is best known for her association with the operas of Wagner. The composer himself cast Lehmann in the roles of Woglinde and Helmwige at the first Bayreuth Festival in 1876, in the premiere of the complete Der Ring des Nibelungen. She would go on to become a great exponent of Wagner's heroic soprano roles, setting a standard for the Wagnerian soprano that has shaped more than a century of performances. At the Metropolitan Opera between 1885 and 1899 - after a house debut in the title role of Carmen - Lehmann was one of the artists who helped instill the unique enthusiasm American audiences developed for Wagner's music. Tireless in her devotion to her art, she also helped pioneer the format of the lieder recital. She championed the repertoire, as evidenced in the program included here, and sang recitals well into her seventies. Lehmann was instrumental in the early years of the Salzburg Festival.
SIG-09080
$150