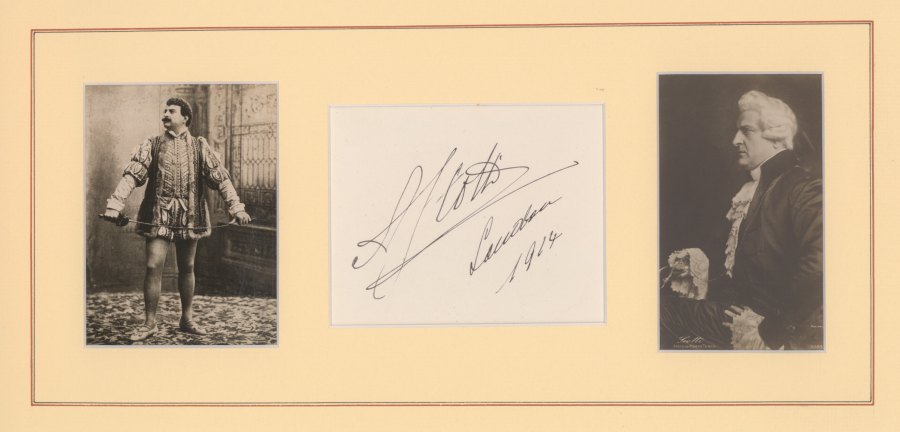 Click Image to Zoom
Enlarge Image
Scotti, Antonio (1866-1936)
ensemble with signature & two photos, as don giovanni & Scarpia
Total measurement of 18.50" w x 10" h. Very good condition.
Bold signature "A. Scotti", dated 1914 in London, matted with flanking character portraits of Scotti in two of his most famous roles - the title role in Mozart's Don Giovanni and Scarpia in Puccini's Tosca.
Neapolitan-born Antonio Scotti was the first of a remarkable run of Italian baritones whose international success brought them to the Metropolitan Opera, where they found a rich and enduring artistic home. Scotti sang at the Met for a near-record 33 seasons, while also sustaining a major international career at such houses as La Scala and Covent Garden. His Met debut in 1899 was in the title role of Don Giovanni, a role he owned in the early years of the 20th century and sang later the same year at Covent Garden. In 1901, he sang his first Scarpia at the Met in the house premiere of Tosca, and also premiered the role in London. Scotti celebrated his 25th anniversary at the Met in 1925 with a performance of Tosca, and he sang at the Met a further seven seasons, ending his career there with a performance of Leoni's L'Oracolo, which he had premiered at the Met in 1905.
SIG-00751
$200