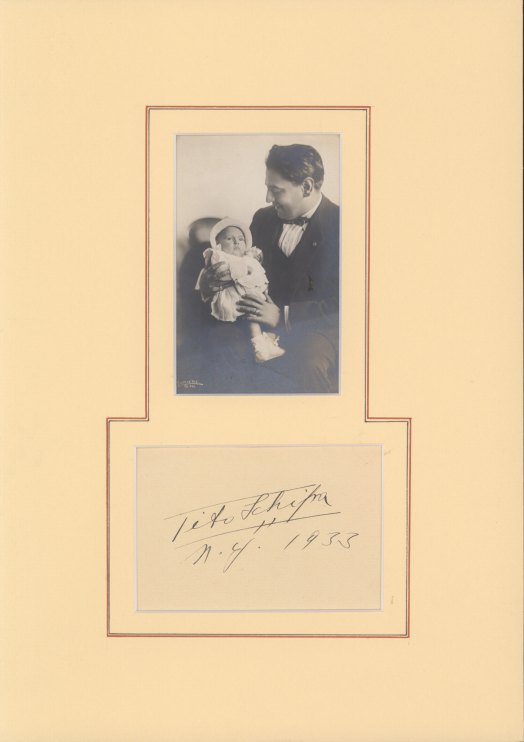 Click Image to Zoom
Enlarge Image
Schipa, Tito (1888-1965)
Ensemble with Signature and Photograph
1933. Total size of 13.75" h x 9.75" w. Very good condition.
Charming period postcard photo of Schipa smiling as he holds his baby daughter, matted and signed "Tito Schipa, N.Y. 1933". A touching ensemble, this postcard shows the beloved Italian tenore di grazia Tito Schipa as a proud father. It is matted with a separate signature, but - hidden behind the mat - the postcard is inscribed by Schipa's wife, "Tito and is [sic] little girl." (On the verso of the card, she also wrote, "A Merry Christmas and many more, A happier New Year than ever before, Mrs T Schipa".)
The image is wholly reflective of Schipa's art and personality - charming, personal, unaffected and direct. He began his career in Europe (creating the role of Ruggero in Puccini's La rondine), but found great success in the U.S. and South America. Schipa sang for years with the San Francisco Opera and Chicago Opera Company as well as the Metropolitan Opera. His recordings of popular songs, many from films, made him an early "crossover" star.
SIG-00744
$225