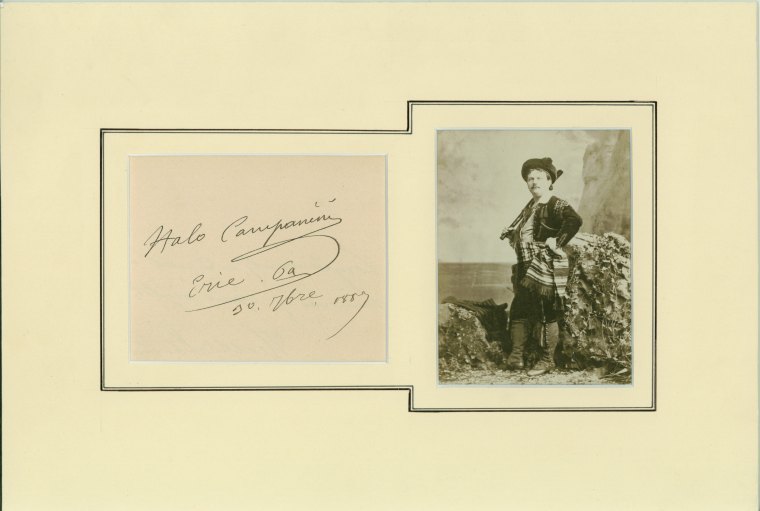 Click Image to Zoom
Enlarge Image
Campanini, Italo (1845-1896)
ensemble with signature & photo as don jose
Total measurement of 12.50" h x 8.25" w. Very good condition.
Full signature, dated "30 Octobre 1883" in Erie PA, matted with an early reproduction photograph of Italo Campanini as Don José in the third act of Bizet's Carmen.
Born in Parma, tenor Italo Campanini was acclaimed wherever he sang. He was discovered in Italy by the impresario J.H. Mapleson, who brought him to London with great success. Campanini made a spectacular New York debut in 1873 at the Academy of Music as Radames in Aida, before returning to even greater notice in London, including the first performances there of Carmen. A tireless singer hailed for the intensity of his performances, the tenor is best known now for singing the title role in Faust on the opening night (October 22, 1883) of the Metropolitan Opera House, where he also sang in the first performances there of Carmen in the opening season. Campanini became the Met's first star tenor and later founded his own opera company. Like many singers of the time, the abandon with which he sang and his demanding repertoire took a toll of his voice, and he retired shortly before his death at the age of 50.
SIG-00673
$160