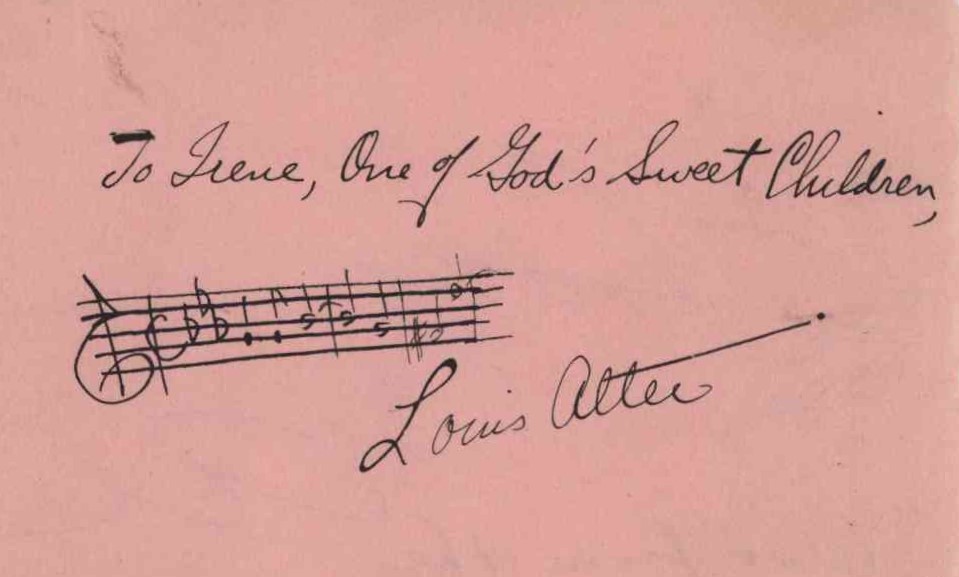 Click Image to Zoom
Enlarge Image
Alter, Louis (1902-1980)
Autograph Musical Quotation Signed
"Louis Alter". n/d. c. 4" h x 6.25" w. Overall good, just a bit dusty.
Quotation from "Manhattan Serenade"
A three-bar quotation on treble clef from Alter's first hit "Manhattan Serenade" (1929), a tone poem that later became the theme music of the Easy Aces radio program. The quote, which Alter wrote as an entry in Irene Gallagher's autograph album, is signed below and inscribed above: To Irene, One of God's Sweet Children.
Louis Alter was an American songwriter and pianist who collaborated with some of the leading artists of his time, including Oscar Hammerstein II, Nora Bayes, and Helen Morgan. He is best remembered today for his "Manhattan Serenade", "Do You Know What it Means to Miss New Orleans?", and "The Trail of the Lonesome Pine".
Irene Gallagher was the popular assistant of the New York music publisher Max Dreyfus. She knew and helped all the up-and-coming composers of the day.
AMQ-15804
$325