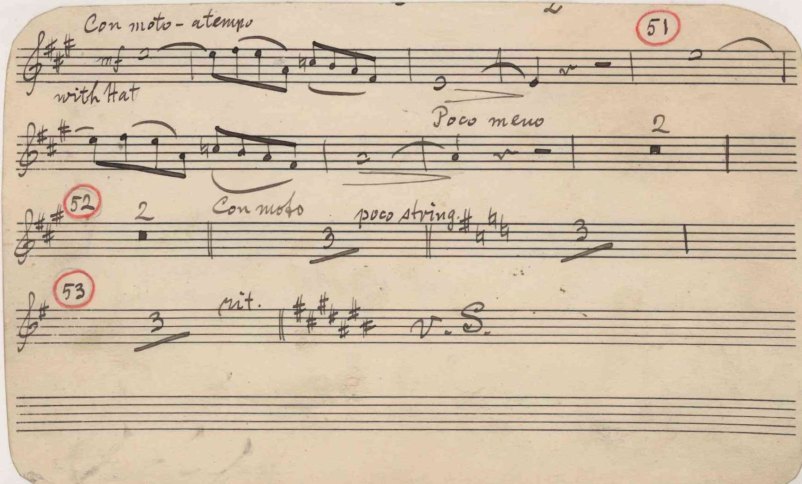 Click Image to Zoom
Enlarge Image
GERSHWIN: COPYIST QUOTE FROM AN AMERICAN IN PARIS
Gershwin, George (1898-1937)
Trumpet Solo from An American in Paris by Contemporaneous Copyist.
n/d. c. 5.5" h x 8.5" w. A bit dusty, but otherwise very good.
The iconic trumpet solo from
An American in Paris
, written by a copyist contemporaneous to Gershwin. The quotation appears to have been trimmed from a full trumpet part and contains rehearsal numbers circled in red. We have not been able to identify the copyist but, in view of the provenance, it could be by the trumpeter of the work's premiere, which occurred in 1928 with Walter Damrosch conducting the New York Philharmonic at Carnegie Hall.
After the work's energetic opening section, which portrays the bustling streets of Paris, this theme emerges to depict the protagonist's sudden onset of homesickness for America.
Gershwin wrote An American in Paris after returning from a trip to Paris during which he intended to study with Ravel. The French composer famously rejected the American, asking, Why be a second-rate Ravel when you can be a first-rate Gershwin?
Provenance: Irene Gallagher, the popular assistant of the New York music publisher Max Dreyfus. She knew and helped all the up-and-coming composers of the day, including Jerome Kern, and even briefly dated the young George Gershwin before his catapult to fame.
AMQ-15803
$300