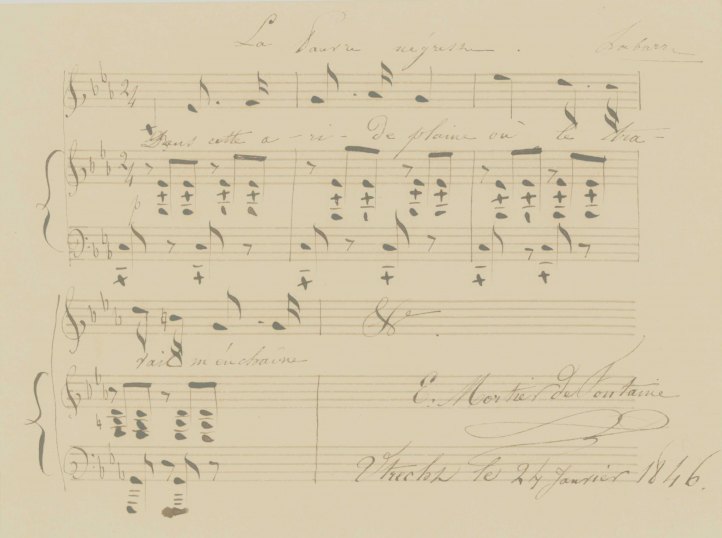 Click Image to Zoom
Enlarge Image
Mortier De Fontaine, Henri-Louis-Stanislas (1816-1883)
Autograph Musical Quotation Signed
"E. Mortier de Fontaine". To "Mr J:W:A Royaards". Utrecht, January 24, 1846. c. 4.5" h x 6" w. On a small piece of music paper. In excellent condition. Light crease at left and smudging to one bass note at bottom (likely original).
De Fontaine offers the first four bars of the song "La Pauvre Négresse" by the French composer Théodore Labarre, whom he credits in the upper-right hand corner. It is a very attractive quotation, neatly written with a strong impression.
On the verso: Pour Mr J: W: A Royaards.
Mortier de Fontaine, a Polish-born pianist of noted technical ability, was said to have been the first to publicly perform Beethoven's "Hammerklavier" sonata. (The first documented performance was by Franz Liszt in 1836.) Internationally recognized, de Fontaine lived and performed in St. Petersburg, Munich, Paris, and London.
Théodore Labarre (1805-1870) was a French composer primarily of operas and ballets. One of his greatest successes was the song quoted here, which became a favorite salon piece of the French soprano Cornélie Falcon.
AMQ-14596
$200