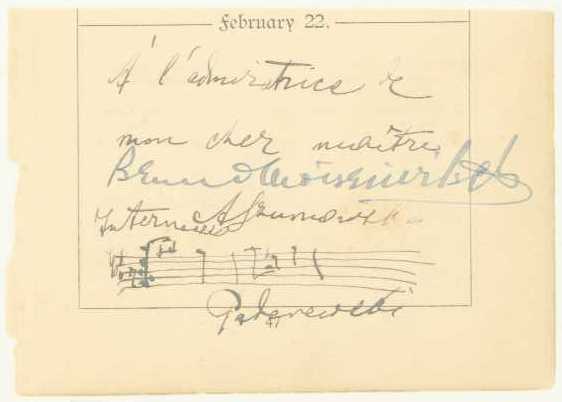 Click Image to Zoom
Enlarge Image
Paderewski, Ignace Jan (1860-1941)
Autograph Musical Quotation of Paderewski
Small clipping (2.5" h x 3.5" w). Good condition. Minor stains; left margin a little uneven (but could be easily covered by framing).
Paderewski has signed someone's birthday book (A. Grun?), adding a two-bar quotation from his
Six Humoresques de concert
, op. 14, "Intermezzo pollaco." He has written in the box for February 22, which happens to be the birthday of the pianist Benno Moieseiwitsch, who has also signed his name on the same page.
It is curious that Paderewski chose this day in the book, his own birthday being November 18, but it is possible he was asked to sign it on the day of a performance or visit.
AMQ-14540
$275