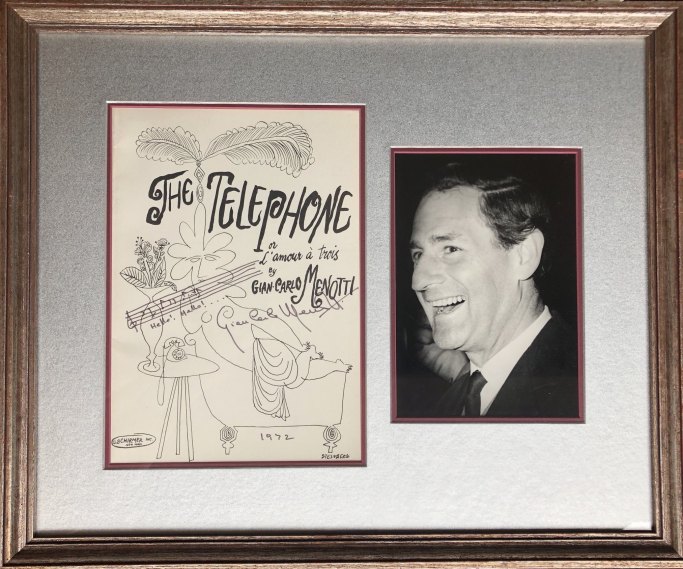 Click Image to Zoom
Enlarge Image
Menotti, Gian Carlo (1911-2007)
Ensemble with Photograph and Autograph Musical Quotation Signed
"Gian Carlo Menotti". 1972. Decoratively matted in silver and with a silver frame. Total size: 16.25" h x 19.75" w (41.3 cm x 50.2 cm). Excellent condition.
A framed ensemble with a photograph of the noted Italian-American composer and librettist Gian Carlo Menotti and a signed cover of his one-act comic opera The Telephone. Schirmer published the music, using for the cover a design by Saul Steinberg, renowned for his covers and drawings that appeared in The New Yorker for nearly six decades. Menotti has signed the cover underneath a one-bar quotation from the work with his hand-written staff, below which he has written the lyrics Hallo! Hello!.... Dated by him at the bottom of the cover.
The Telephone, or L'Amour à Trois, is an English-language comic opera in one act. Menotti wrote both the words and the music in 1945 and the work premiered in New York City on February 18, 1947. A German film was made of it in 1968. It is one of several operas for which Menotti is best remembered; among the others are The Medium, The Consul, Amahl and the Night Visitors, and The Saint of Bleeker Street.
AMQ-14261
$850