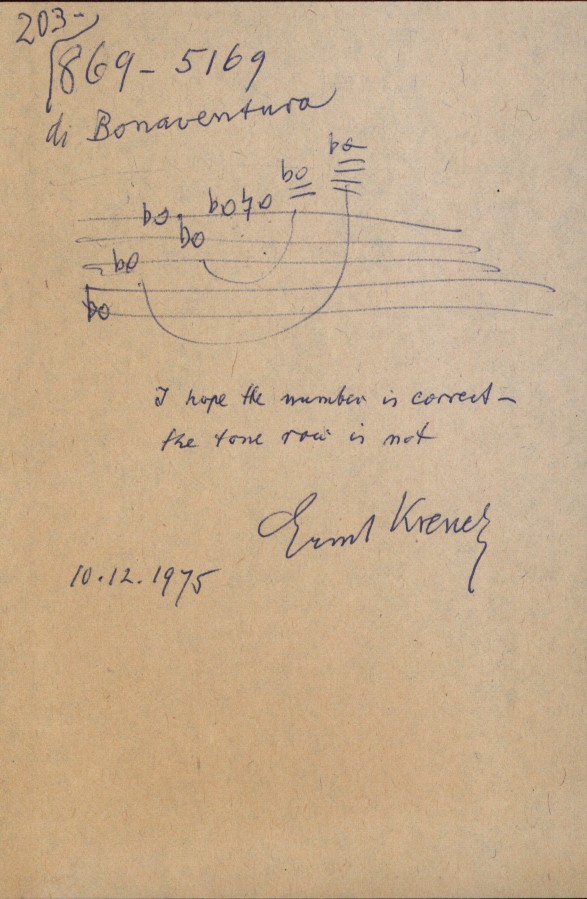 Click Image to Zoom
Enlarge Image
Krenek, Ernst (1900-1991)
Autograph Musical Quotation Signed
"Ernst Krenek". 10/12/1975. 6" h x 4" w.
A very unusual musical quotation, with eight notes on one bar under which Krenek has noted, "I hope the [phone] number is correct - the tone row is not" and above which he has penned a telephone number and "di Bonaventura".
Baker's Dictionary (1992) describes Krenek as a "remarkable Austrian-born American composer, whose intellect responds equally to his musical philosophy and his imaginative technique of composition....His evolution as a composer mirrors the development modern music in general." He was associated with Schoenberg and the Second Viennese School. He married Mahler's daughter, Alma. Inasmuch as the telephone is a Connecticut number, it is probably that of the conductor Mario de Bonaventura, who was conductor of the New Haven Symphony, (as opposed to his brother, the American pianist Anthony di Bonaventura).
AMQ-10440
$375