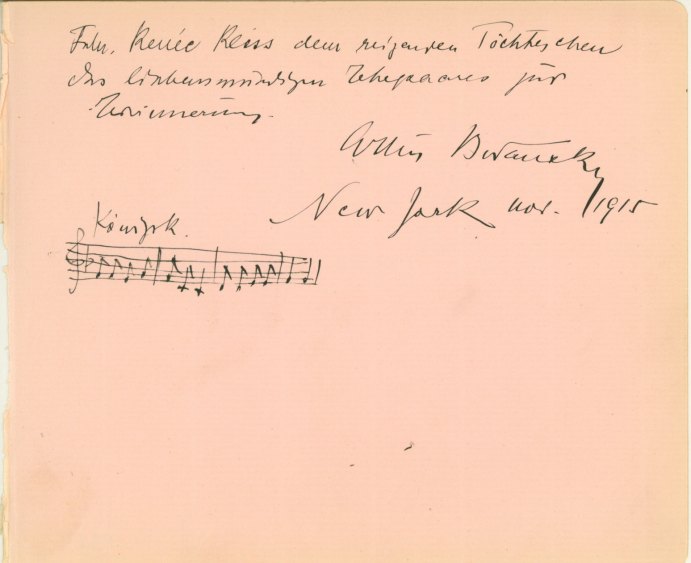 Click Image to Zoom
Enlarge Image
Bodanzky, Artur (1877-1939)
autograph musical quotation from Königskinder Signed
"Artur Bodanzky". Total measurement of 6.5" h x 7.50" w. Fine condition.
On pale pink album leaf, conductor Artur Bodanzky included a warm sentiment in German, dated November 1915, New York, and sketched a four-bar musical quotation from Humperdinck's Königskinder for Renée Reiss, the young daughter of tenor Albert Reiss.
When he signed this album leaf, Artur Bodanzky had just made his Metropolitan Opera debut (conducting Götterdämmerung on Nov. 18, 1915). In the two weeks that followed, he conducted three performances (two of Der Rosenkavalier, one of Parsifal) in which Renée Reiss's father sang. The Humperdinck quote probably refers to Albert Reiss's success in the opera's world premiere five years earlier. Bodanzky had been Gustav Mahler's assistant in Vienna, and - in Mahler's footsteps - he quickly became the chief conductor of the German wing of the Met repertoire. Despite a brief interlude in which he quit the Met over a salary disagreement, he remained with the company until his death.
AMQ-09320
$175