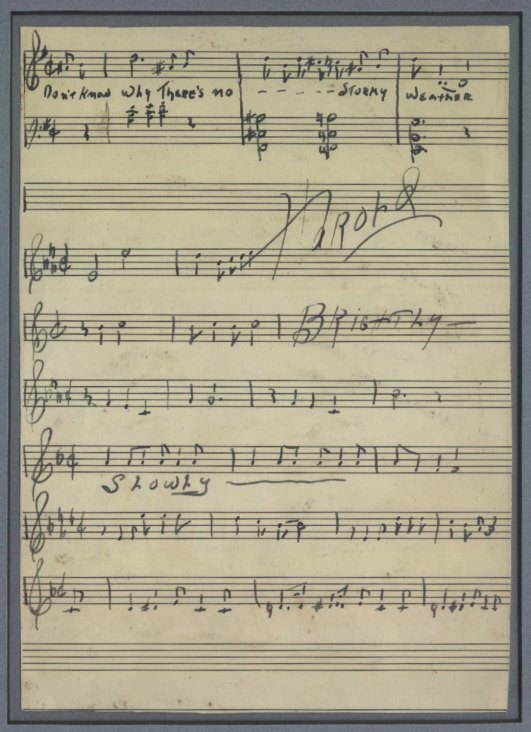 Enlarge Image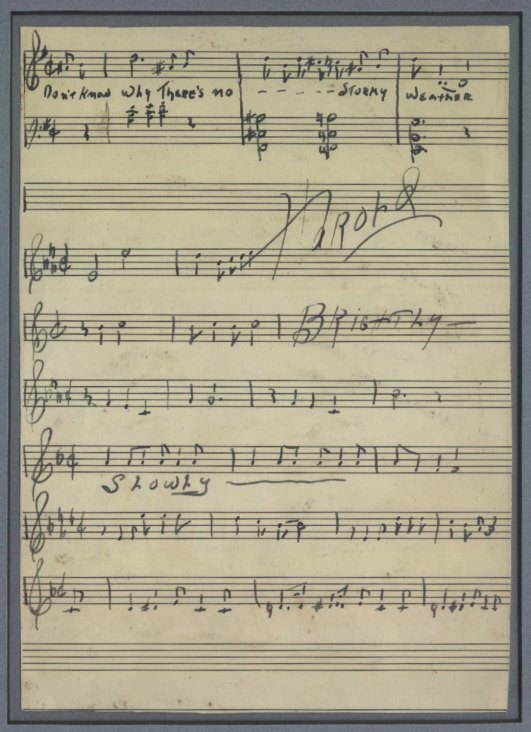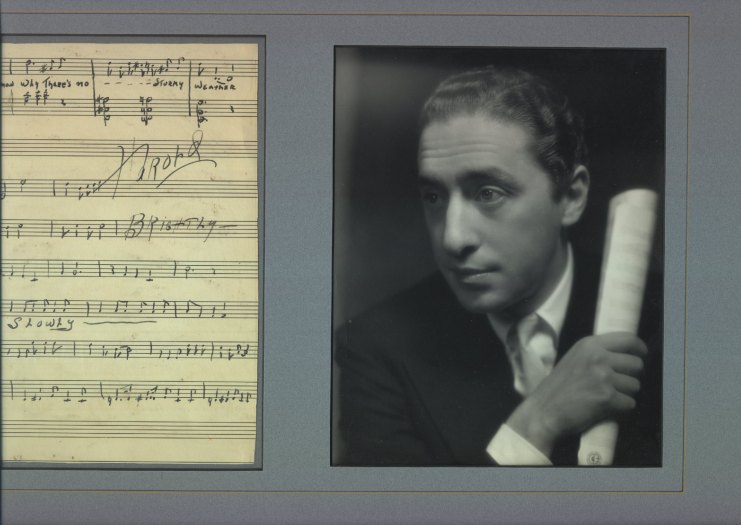 Arlen, Harold (1905-1986)
Manuscript of Musical Quotations & Original Artwork Signed
"Harold". 7 autograph quotes consisting of 22 bars of music, only the first with lyrics. Total size in mat: 15.50" h x 22" w. Book Cover Layout: Total size in mat: 17.50" h x 15.50" w. Both very slightly soiled, otherwise fine.
A special and unique page of autograph quotes from Arlen's hit songs
The manuscript page of song quotes leads off with "Stormy Weather" and includes, in order: "Over the Rainbow", "Two Ladies in De Shade of De Banana Tree" (from House of Flowers) , "Here's What I'm Here For" (from A Star Is Born), "Come Rain or Come Shine", "Paper Moon", and "The Man That Got Away" -- altogether seven quotes across which Arlen has boldly penned his first name.
This page of quotes was prepared by Arlen for the cover of the 1961 biography by Edward Jablonski, Harold Arlen: Happy with the Blues -- The Life and Times of the Composer of Stormy Weather. The manuscript is offered with the original artwork prepared for the cover of the book -- that is, the mockup given to the printer -- with various handwritten instructions for final production.
Harold Arlen was a famous composer of hit Broadway shows and songs and of Hollywood film scores. He was the son of a cantor in Buffalo, joining the choir of his father's synagogue, and later found employment as a pianist on local steamboats and nightclubs before moving to New York to work as a singer and arranger. Among his dozens and dozens of hits are many considered true classics of American popular music.
Edward Jablonski (1922-2004) was an important writer on American musical theater. In addition to Harold Arlen: Happy with the Blues, his other biographies include The Gershwin Years and Irving Berlin: American Troubadour.
Provenance: Estate of Harold Arlen.
AMQ-08407
$15,000