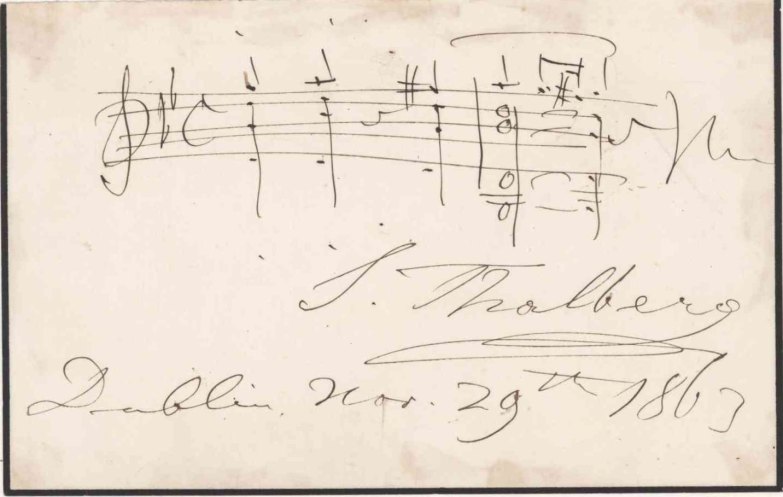 Click Image to Zoom
Enlarge Image
Thalberg, Sigismond (1812-1871)
Autograph Musical Quotation Signed
"S. Thalberg". Dublin, November 29, 1863. 4.5" h x 7" w. 1 p. of mourning stationery. In very good condition. Some glue remnants on verso from old mount; top edge missing black border but trimmed evenly.
On a small sheet of mourning stationery, the Austrian virtuoso offers two bars on treble clef in G minor, signing and dating beneath the quotation. An attractive example of Thalberg's signature.
This quotation dates to the same year that Thalberg retired to his Neopolitan villa, Posillipo, to become a wine merchant. He had an enormously successful career on which to reflect in his final years: his brilliant technique had been praised by the likes of Fétis and Mendelssohn, his compositions recommended by Schumann, and his interpretations adored by European and American audiences alike. Thalberg was considered then and now as Liszt's only worthy rival -- but the pair, despite a bumpy start, enjoyed a cordial relationship.
AMQ-08289
$400