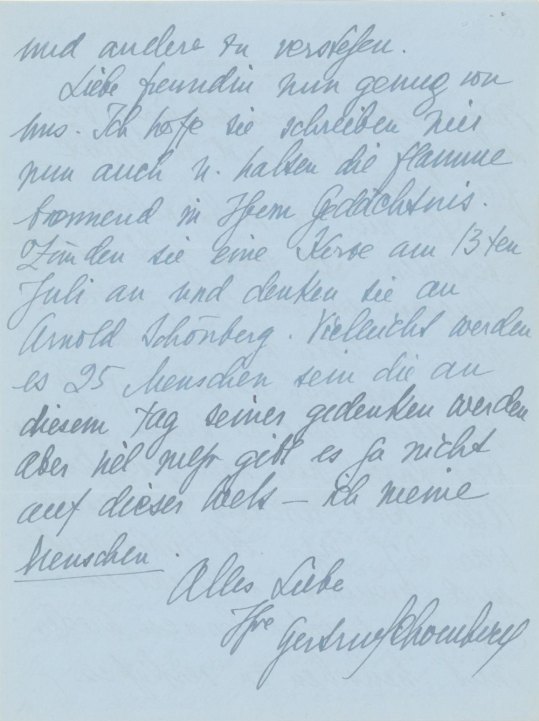 Enlarge Image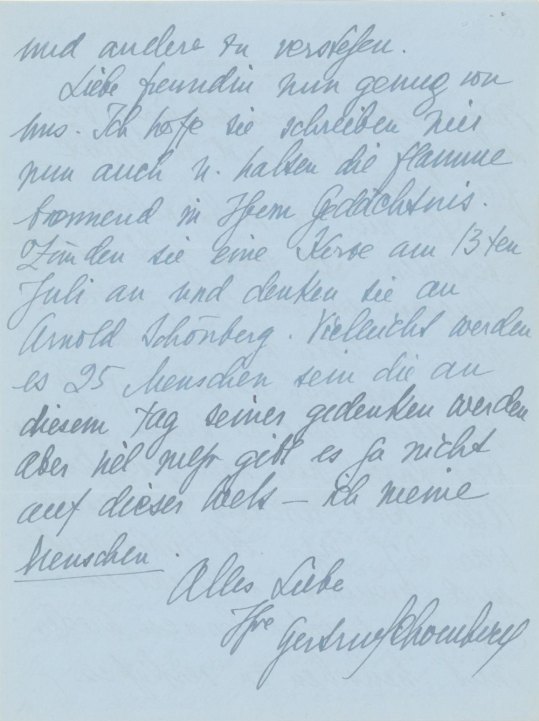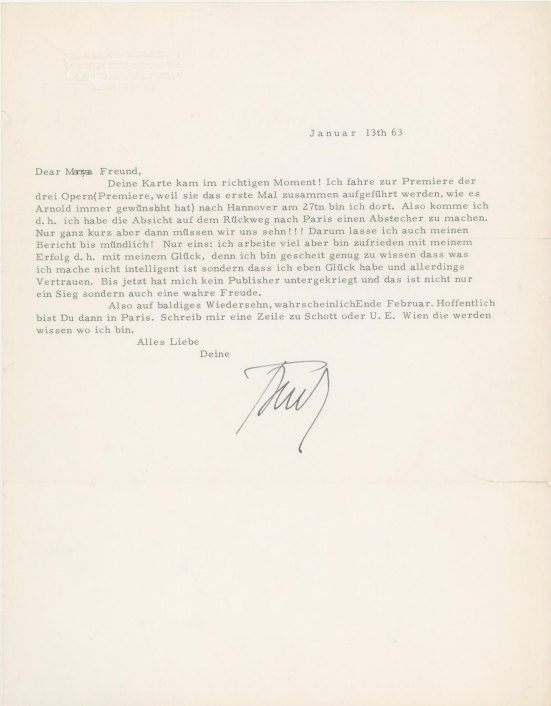 Schoenberg, Gertrud (1898-1967)
Autograph Letter and Typed Letter Signed
"Gertrud Schoenberg" and "Gertrud". Los Angeles, 1952 [ALS, 4 pp.] & 1963 [TLS, 1 p.]. ALS with full English translation. In excellent condition on the whole. Typical folds. TLS with small hole through embossed letterhead and small tear at bottom right (not affecting).
Gertrud Schoenberg, wife of composer Arnold Schoenberg, writes to Polish soprano Marya Freund while grieving her husband's death and notes the first performance of Schoenberg's three operas programmed together.
In the first letter, dated June 26, 1952, Gertrud writes about the challenges of life after her husband's passing, which had only occurred the previous summer: I was efficient only as long as I knew that I was needed for something!... I slowly begin to live, if one can call it living, if one worries from morning to evening without knowing why. What can still happen to me? Everything that was important to me 27 years is no more and nobody needs one. I now must learn to associate again with people and to understand them.
Gertrud includes a report about her three children, who are all thriving in Los Angeles, and closes with a request for Marya to mark the one-year anniversary of her husband's death: Light a candle on 13 July and think of Arnold Schönberg. Perhaps there will be 25 people who on that day will think of him.
In the second letter, dated January 13, 1963, Gertrud writes that she is enroute to Hannover to hear the premiere of three operas (premiere, because it is the first time that all three will be presented together, as Arnold always wished) and hopes that she can rendezvous with Marya the following month.
The performance to which the second letter refers took place in Hannover on January 27, 1963. Schoenberg had always desired for his three operas Erwartung, Die glückliche Hand, and Von heute auf morgen to be programmed together; this performance, as Gertrud writes, marked the first time that they were.
ALS-16005
$500