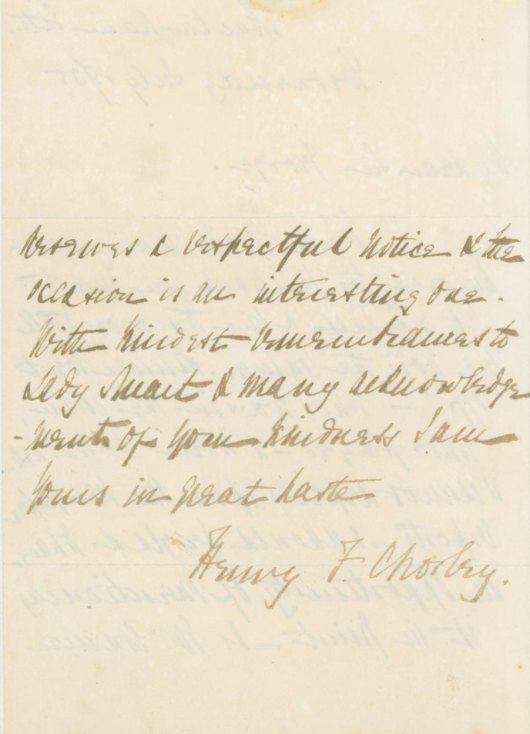 Click Image to Zoom
Enlarge Image
Chorley, Henry F. (1808-1872)
Autograph Letter Signed
"Henry F. Chorley". To "Sir George" [Smart]. London, July 15, 1835. 2 pp. In excellent condition. With typical folds and trimmed at top.
Letter to George Smart about J.B. Cramer's retirement.
The English music critic asks Sir George Smart for information about the Cramer Dinner, noting that he cannot depend upon the newspaper reports & should be glad to have an opportunity of mentioning it in print, as Mr. Cramer deserves a respectful notice & the occasion is an interesting one.
The event about which Chorley inquires must be the farewell concert and dinner held in May 1835 just prior to the retirement of German-born English pianist and composer Johann Baptist Cramer. As described in a biographical sketch published by the Musical Times in 1902, the pianist-composer performed that evening with some other notable talents--including Maria Malibran--and then attended a dinner in his honor with Sir George Smart presiding and Ignaz Moscheles, Henri Herz, and Thomas Attwood in attendance.
Johann Baptiste Cramer was a London-based pianist and composer whom Beethoven considered the finest technical keyboardist of the day. Cramer studied with Clementi, composed over two hundred works for piano, and also became a successful publisher.
ALS-15995
$200