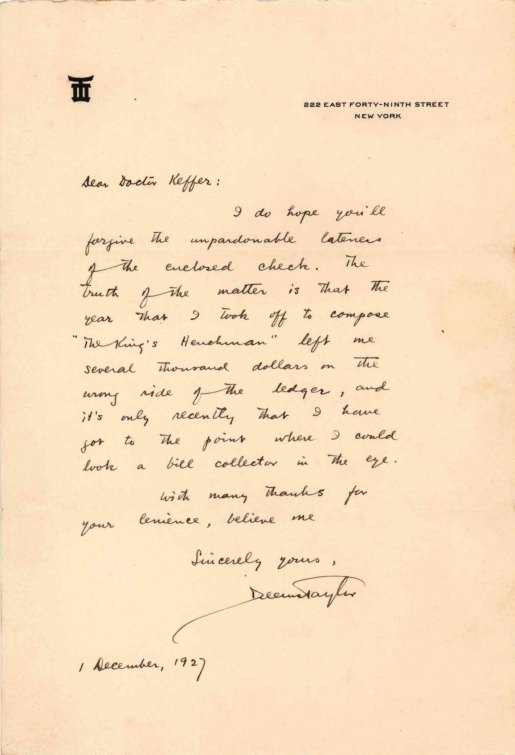 Click Image to Zoom
Enlarge Image
Taylor, Deems (1885-1966)
Autograph Letter Signed
"Deems Taylor". To "Doctor Keffer". New York, December 1, 1927. Small octavo. 1 p. on letterhead. Excellent condition with typical folds.
American critic and composer Deems Taylor writes to dentist and music patron Edward Keffer to apologize for a late payment, noting, the year that I took off to compose "The King's Henchman" left me several thousand dollars on the wrong side of the ledger, and it's only recently that I have got to the point where I could look a bill collector in the eye.
Taylor's three-act opera
The King's Henchman
, about the medieval king Edgar the Peaceful, premiered at the Metropolitan Opera in 1927 and featured Lawrence Tibbett as the king in his first major role at that house. The performance was so well received that the
New York Times
titled its review
'King's Henchman' Hailed As Best American Opera
. The work would receive sixteen additional performances over the course of the next three seasons, an impressively high number for an American opera at the Met.
Dr. Edward Keffer was a dentist and amateur violinist who for fifty years was one of Philadelphia's most devoted music patrons, taking a leading role in the formation of the Philadelphia Orchestra.
ALS-15312
$150