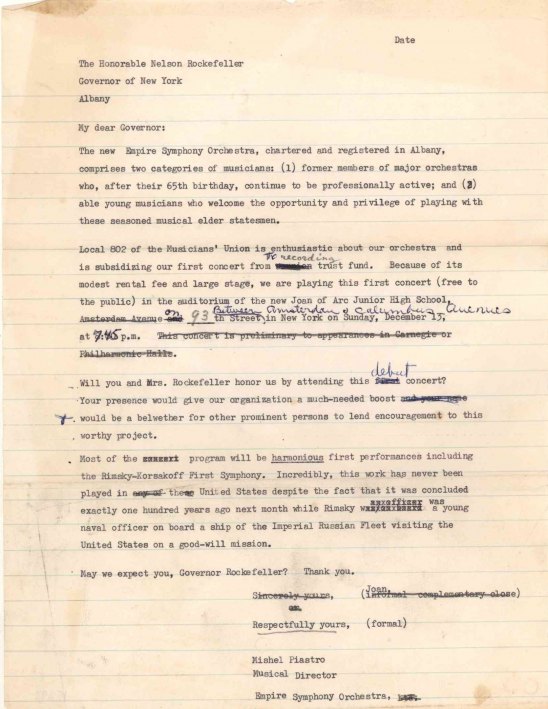 Click Image to Zoom
Enlarge Image
Piastro, Mishel (1891-1970)
Typed Draft Letter to Nelson Rockefeller.
New York, [December 1964]. Unsigned. Quarto. 1 p. on lined paper. Handwritten corrections and additions throughout, possibly in the hand of Piastro. We have dated the letter to December 1964 based on a brief announcement for the concert in the New York Times. Typical folds and a few minor stains at margins; otherwise very good.
Mishel Piastro, longtime concertmaster of the New York Philharmonic, writes to invite New York Governor Nelson Rockefeller to the inaugural concert of the Empire Symphony Orchestra. As Piastro states in his opening paragraph, the ensemble is comprised of (1) former members of major orchestras who, after their 65th birthday, continue to be professionally active; and (2) able young musicians who welcome the opportunity and privilege of playing with these seasoned musical elder statesmen. Piastro is the conductor of the enterprise and asserts that the governor's presence would give our organization a much-needed boost and would be a belwether for other prominent persons to lend encouragement to this worthy project.
ALS-15290
$75