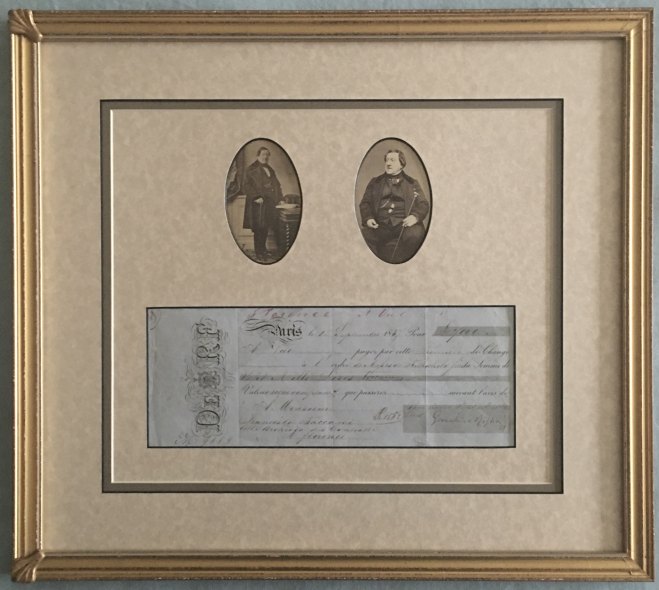 Enlarge Image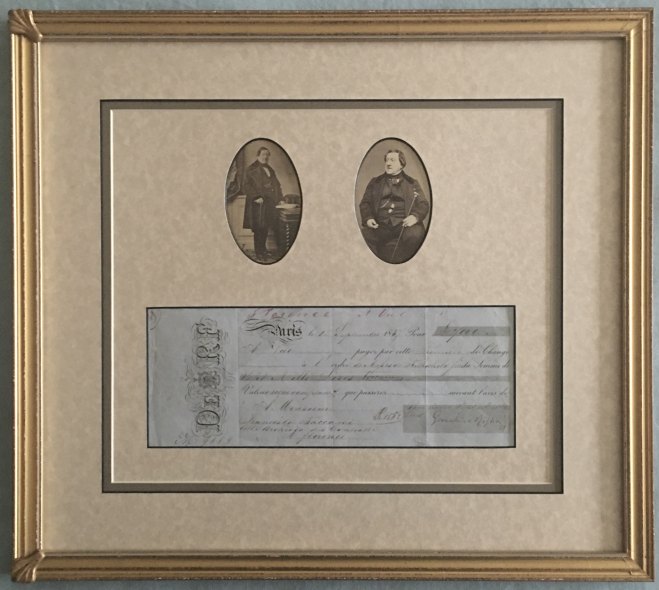 Rossini, Gioacchino (1792-1868)
Ensemble with Signed Check and Photographs
Check signed "Gioacchino Rossini". Made out to Francesco Baccani. Paris, September 12, 1857. Total check size: 3.75" h x 10" w. Total size in frame: 15.25" h x 17.25" w. With two original carte de visite photographs. All in excellent condition. Check with creases from former folding. Fleur-de-lys decorations missing on right side of frame.
A handsomely presented ensemble with a check made out and signed by the eminent opera composer, indicating that seven thousand lire should be remitted to Florentine notary Francesco Baccani from Rossini's Rothschild bank account. Above the check are two ovalized original contemporary carte de visite photographs, the famous portrait at the right depicting Rossini just three years after he wrote this check.
Extant correspondence shows that Rossini entrusted Baccani with a wide variety of tasks while abroad, including the management of his Italian properties, financial dealings, and legal concerns.
By the time he signed this check, Rossini had settled into a very comfortable daily routine in his Parisian retirement: he hosted friends after breakfast (including members of the Rothschild family), took daily strolls around the local food shops at lunch, and read with his wife, Olympe, in the evenings. Time was also made for composition, though he published very little. His Saturday evening soirées, for which he printed elaborate invitations, menus, and musical programs, became the hottest ticket in town.
ALS-14757
$2,750