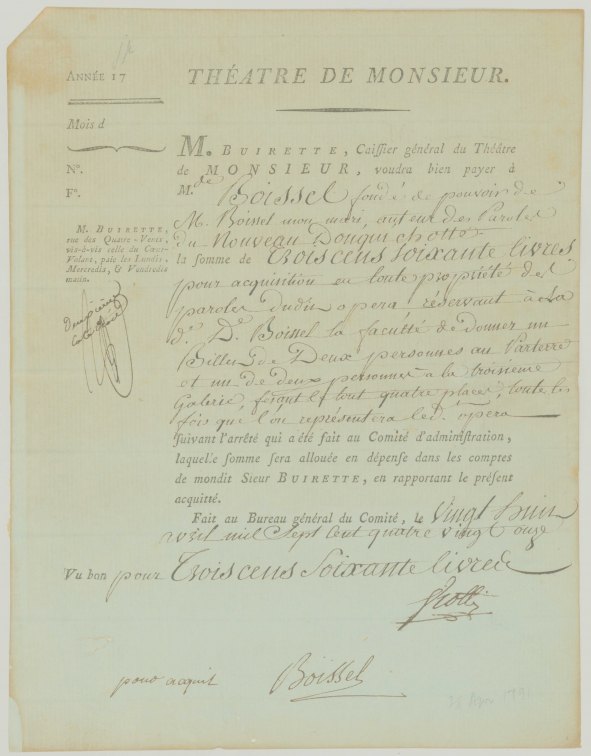 Click Image to Zoom
Enlarge Image
Viotti, Giovanni Battista (1755-1824)
Receipt for Libretto, Signed
"Viotti". To M. de Boissel. Paris, April 27, 1791. 1 p. on letterhead of the Théatre de Monsieur. In excellent condition; impressively crisp. Upper left corner docked with stain and one small tear and one small hole at bottom (none affecting).
A receipt made out to François de Boissel by the accountant of the Théatre de Monsieur, acknowledging that the theater has assumed ownership of Boissel's libretto
Nouveau Don'quichotte
in exchange for 360 livres and four tickets -- two in the parterre and two in the third gallery -- for every performance of the opera. The receipt is signed at the bottom by both Viotti (the theater's director) and Boissel.
As per an extant copy of the libretto published in 1792, Le Nouveau Don-Quichotte was a comic opera in two acts composed by a Monsieur Champein. It premiered at the Théatre de Monsieur on May 25, 1789 and enjoyed additional performances in Nantes the following year.
Viotti had success as both a violinist and theater director. He founded the Théatre de Monsieur in January 1789 together with Marie-Antoinette's hairdresser, Léonard-Alexis Autier. It was named for its chief patron, Monsieur Comte de Provence (who, as brother to Louis XVI, would later be crowned Louis XVIII). The theater benefitted from the unique privilege of staging serious, comic, and Italian opera as well as vaudeville at a time when companies were typically restricted to one genre or another. Viotti abandoned the enterprise for London in 1792 as his royal connections became dangerous.
François de Boissel (1728-1807) was an author and revolutionary. He rose to prominence in the Jacobin Club and became its archivist in 1793.
ALS-14592
$400