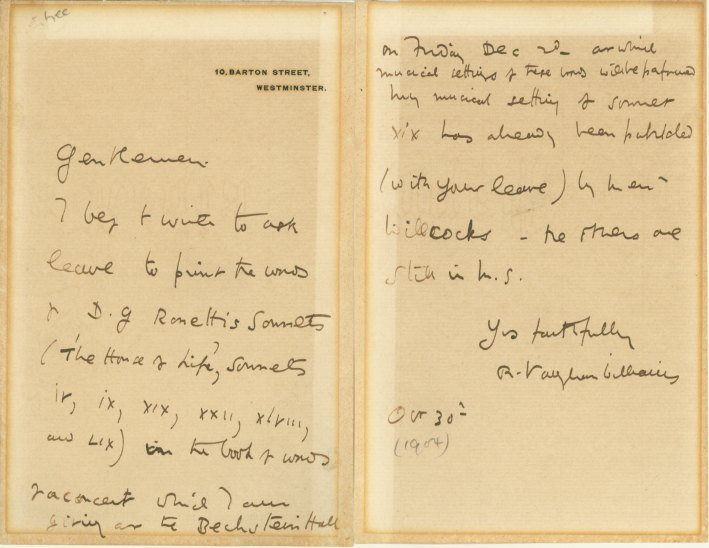 Click Image to Zoom
Enlarge Image
Vaughan Williams, Ralph
Autograph Letter Signed
"R. Vaughan Williams". London, Oct. 30th [1904]. Approx. 7" h x 9" w. 2 pp. (on stationery with "10, Barton Street, Westminster"). Fine condition but shows signs on edges from former framing.
A rare early letter by the noted English composer referring to the first performance of The House of Life
:
I beg to write to ask leave to print the words of Dante Gabriel Rossettis Sonnets ('The House of Life', Sonnets 1V, 1X, X1X, XX11, XLV111, and L1X) in the book and words for a concert which I am giving in the Bechstein Hall on Friday Dec. 2nd in which musical settings of these words will be performed. My musical setting of Sonnet XiX has already been published ...
The House of Life
was composed in 1903 and had its first performance in December 1904, with soprano Edith Clegg and pianist Hamilton Harty. This was one of the three song-cycles which were Vaughn Williams' first major works in the period 1895-1906, the others being the cantata for voice and piano
Willow-Wood
, which was also composed in 1903, and
Songs of Travel
, was premiered at the December 2nd concert with
The House of Life
.
Early letters by Vaughn Williams referring to his music are extremely scarce.
ALS-14386
$750