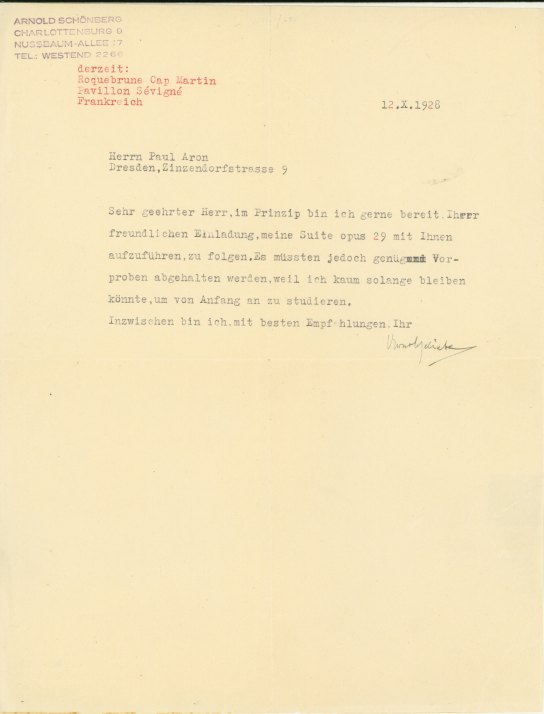 Click Image to Zoom
Enlarge Image
Schoenberg, Arnold (1874-1951)
Typed, Signed Letter
"Arnold Schoenberg". Addressed to "Herrn Paul Aron". "12.X.1928". 8.5" w x 10.5" h. 1 pp. Very fine condition.
Typed, signed letter in German on stamped, personal letterhead.
A letter to the pianist Paul Aron, in part translated: "I am basically very happy to accept your kind invitation to perform my Suite opus 29 with you. However, adequate pre-rehearsal would have to be arranged because it's impossible for me to stay long enough for you to learn it from the beginning."
According to the Arnold Schoenberg Center, Schoenberg's Suite opus 29, scored for piano, piccolo clarinet, clarinet, bass clarinet, violin, viola and cello "originate[s] from the autumn of 1924 when Schönberg planned a sequence of lively movements in his 5th sketch book…The cheerful, vibrant character of the Suite, which was completed on 1 May 1926, is a perfect reflection of Schönberg's enjoyment of life at the time. He was newly married and dedicated the work to his "dear wife" Gertrud, whose musical monogram "eS-G" [E flat-G] is integrated into the music at the beginning and end of each movement".Schoenberg famously developed the "twelve-tone" system that proved to be one of the biggest innovations in 20th-century music.
ALS-14367
$1,200