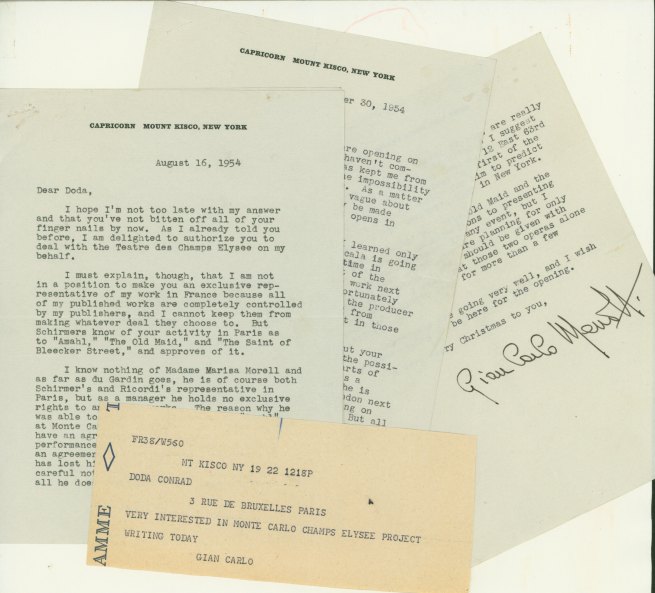 Enlarge Image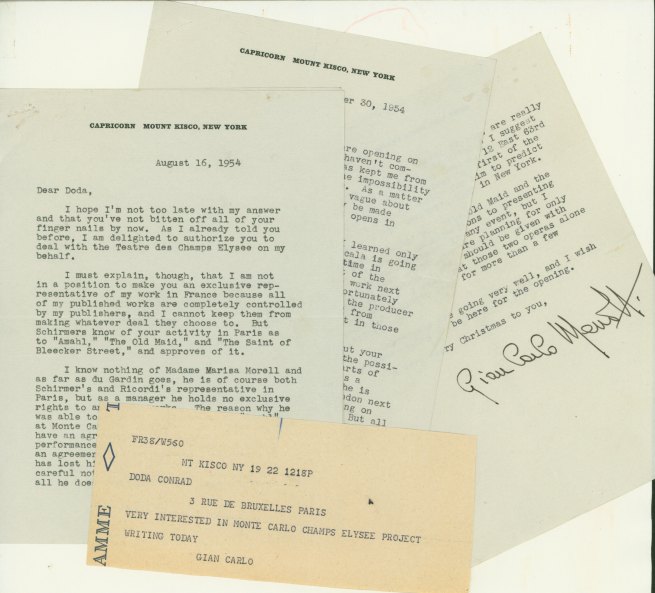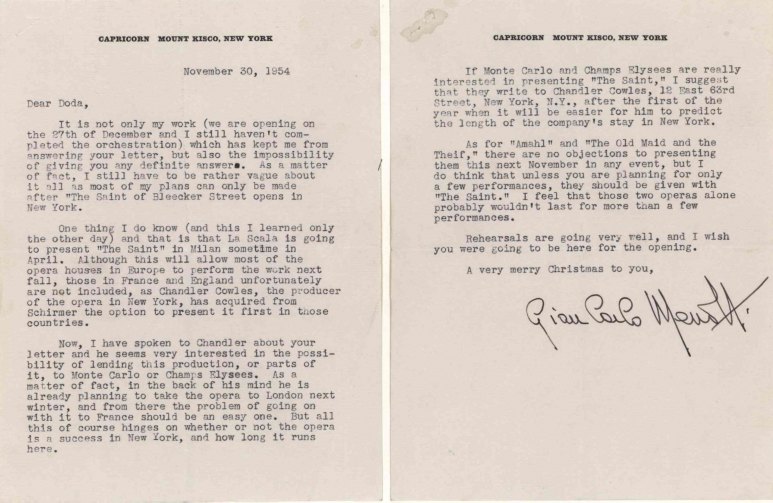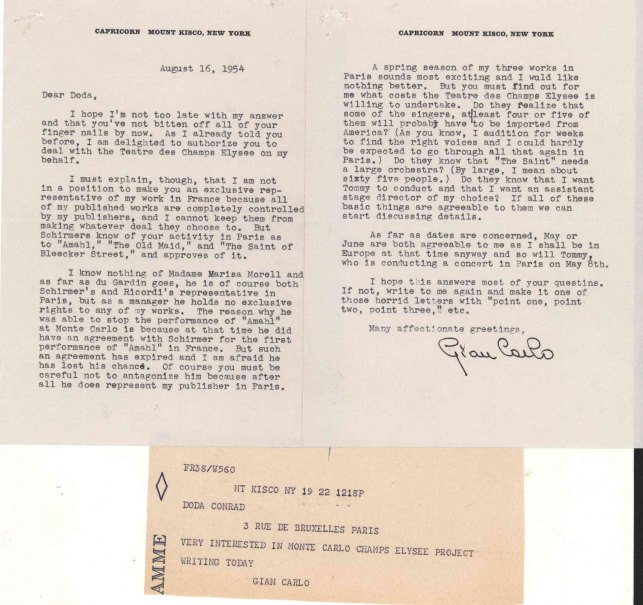 Menotti, Gian Carlo (1911-2007)
Two TLS & Telegram Regarding Performances Abroad Signed
"Gian Carlo". To Doda Conrad. Mount Kisco, NY, August 16 & November 30, 1954. TLS: 8" h x 6" w. 4 pp. (letters) and 1 p. (telegram). All in excellent condition with normal folds.
Menotti writes two letters to the Polish-American baritone Doda Conrad regarding the performance of his operas abroad, including references to the premiere of The Saint of Bleecker Street.
In the first letter, dated November 30, 1954, Menotti authorizes Conrad to negotiate with the Théâtre des Champs Elysée on his behalf for performances of Amahl and the Night Visitors, The Old Maid, and The Saint of Bleeker Street, enthusiastically asserting that he would like nothing better than a spring season in Paris. He also shares some questions and concerns about the endeavor: But you must find out for me what costs the Teatre des Champs Elysee is willing to undertake. Do they realize that some of the singers, at least four or five of them will probably have to be imported from America? (As you know, I audition for weeks to find the right voices and I could hardly be expected to go through all that again in Paris.) Do they know that "The Saint" needs a large orchestra?...Do they know that I want Tommy [Thomas Schippers] to conduct and that I want an assistant stage director of my choice?
Included is a telegram sent from Menotti to Conrad, evidently in advance of this letter: Very interested in Monte Carlo Champs Elysee Project | Writing today | Gian Carlo.
In the second letter, dated November 30, 1954, Menotti writes about the upcoming premiere of
The Saint of Bleecker Street
, reporting that
the rehearsals are going well
but
I still haven't completed the orchestration
. On the possibilities for first performances in Europe, Menotti writes that La Scala will stage the opera in April and that Chandler Cowles, the producer of the New York premiere, has acquired the presentation rights from Schirmer for productions thereafter. Cowles
seems very interested in the possibility of lending this production, or parts of it, to Monte Carlo or Champs Elysees
the following winter. Menotti closes with wishes for a merry Christmas and a clear, bold signature.
Menotti won his second Pulitzer Prize for The Saint of Bleecker Street. Set in New York's Little Italy, the three-act opera tells the story of two siblings who grapple with their neighbors' conviction that one of them is a Catholic saint. The opera premiered at the Broadway Theatre in New York City and enjoyed 92 consecutive performances; additional productions soon followed at La Scala and the Vienna Volksoper.
Menotti was the most popular and prolific opera composer of his time and usually wrote his own librettos. He is best known today for The Medium, The Consul, The Telephone, The Saint of Bleeker Street, and the made-for-television Amahl and the Night Visitors. He was the personal and professional partner of the composer Samuel Barber and a founder of the Spoleto Music Festival.
ALS-14001
$450