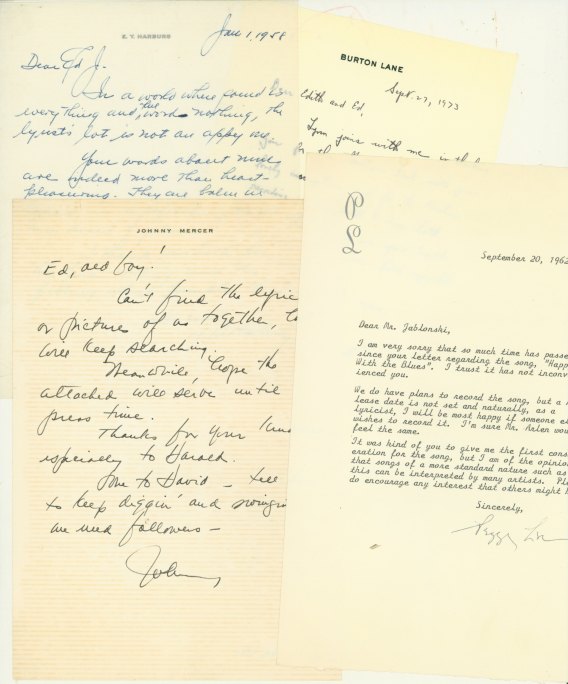 Click Image to Zoom
Enlarge Image
SONGWRITERS WRITE TO ED JABLONSKI
Nine Letters to Ed Jablonski.
Very good to excellent condition.
A lot of ten letters to author and music critic Edward Jablonski from some of the most prominent Broadway musicians, song writers, lyricists and film composers of his day, including
Peggy Lee, Yip Harburg, Burton Lane, Johnny Mercer, John Green, Hildegarde, Portia (a singer, possibly White or Nelson), Harry Warren, Arthur Schwartz, and Dory Langdon Previn.
The letters date from 1960-1984, several noting specific songs, recording dates, etc. To note just a few highlights: Burton Lane offers his thanks for the evening we spent together, with Harold Arlen; "Yip" Harburg touchingly notes that Your words about mine are indeed more than heart-pleasuring. They are balm in Gilead, - a refreshing oasis in a desert of silence; Arthur Schwartz remarks that I was deeply touched by your heartwarming letter. Praise from you means something special to me; and Dory Langdon Previn writes to thank you for the wonderful notes on the 'Together with Love' album. They were both literate and entertaining…the fact that someone like yourself could actually appreciate the words to a song is rare…If I sound as though I am falling all over you it is because I am falling all over you.
Jablonski clearly inspired a great deal of respect and affection from these prominent musicians.
Edward Jablonski was the author of several biographies of American composers, including George Gershwin, Harold Arlen, Alan Jay Lerner, and Irving Berlin. At the time of his death in 2004, he was writing Masters of American Song, which would have been a comprehensive history of American popular music. Jablonski also kept an extensive archive of tapes and correspondence and for decades exchanged letters with Ira Gershwin.
ALS-13203
$600