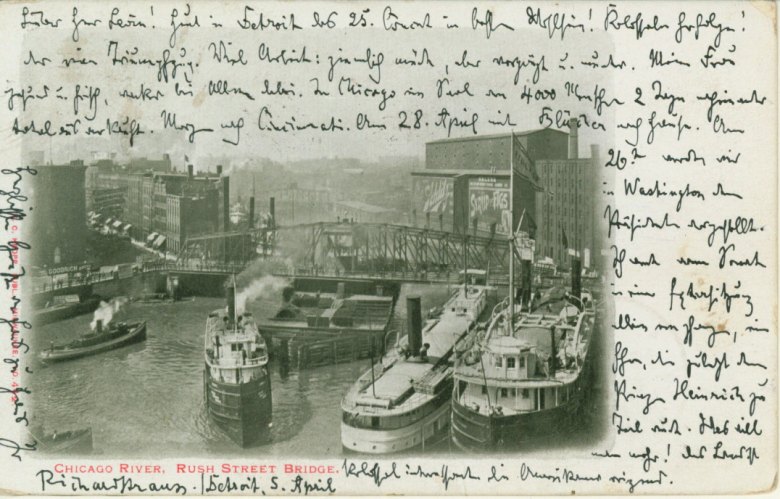 Click Image to Zoom
Enlarge Image
Strauss, Richard (1864-1949)
autograph letter on a postcard
"Richard Strauss". Mr. Levin Detroit, 5 April 1904. 3.5" h x 5.5" w. 1 p. Very good with clear text and signature.
A delightful postcard (with a picture of the Chicago River) in which Strauss writes enthusiastically about his trip to America:
Dear Mr. Levin!
Today in Detroit until 25th. Concert in best…! Tremendous success! Four triumphal processions. Much work: rather tired, but happy and cheerful. My wife healthy and fresh, actively joining everything. In Chicago in Hall with 4000 people 2 days continuously totally sold out. Tomorrow to Cincinnati. On 28th April with Blucker (?) to home (?). On 26th we will be introduced to the president in Washington. Today received alone by the Senate in a meeting, an honor which has been last granted to Prince Heinrich. What else would I want! The country is tremendously interesting, the Americans very friendly. Best regards from house to house, yours, Richard Strauss. Detroit, 5th April."
Strauss was invited to America in 1904 for a series of concerts given in his honor. In a month he gave twenty-one concerts in different cities with various orchestras. The reviews were mixed but Chicago was a great success in partiular where he was enthusiastically received by the conductor Theodore Thomas who had prepared the orchestra so well that "
the 01249 composer saw no need for more than one rehearsal under his own bâton"
(unlike New York where insisted on 15 rehearsals on the
Symphonia Domestica
alone) (Finck:
Richard Strauss The Man and his Works
).
Willy Levin was a clothing merchant and patron of the arts in Berlin.
ALS-12557
$1,200