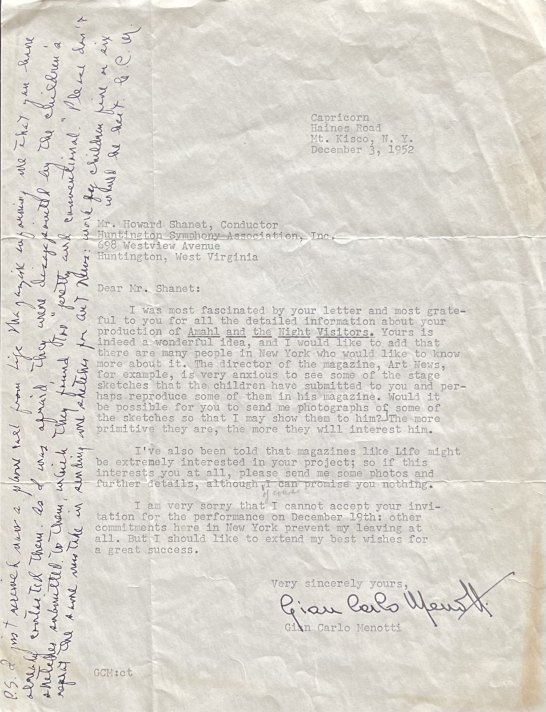 Click Image to Zoom
Enlarge Image
Menotti, Gian Carlo (1911-2007)
Typed Letter Signed
"Gian Carlo Menotti" and also his initials "G.C.P." at end of postscript. To "Howard Shanet". December 3, 1952. 1 p. on typewriter paper with autograph note signed G.C.M. Overall very good condition with the usual creases and some sunning on bottom edges.
Menotti writes about a production of Amahl and the Night Visitors by the recipient of the letter, who has made suggestions to Menotti about press and promotion for the work. The composer explains: there are many in New York who would like to know more about [it]. The director of the magazine, Art News, for example, is very anxious to see some of the stage sketches that the children have submitted to you…the more primitive they are, the more they will interest him. Menotti also suggests that Life magazine might be interested in the project, but adds in a handwritten postscript, I have just received now a phone call from Life magazine informing me that you have already contacted them, as I was afraid. They were disappointed by the childrens sketches submitted to them, which they find too 'pretty and conventional.' Please don't repeat the same mistake in sending on sketches for Art News…
Menotti composed
Amahl and the Night Visitors
a year prior to this letter. It was written on commission by NBC, which gave the premiere on December 24, 1951.
It was the first opera composed expressly for television in America.
Howard Shanet was a Columbia University-based conductor and writer on music, noted especially for his support of new music as well as neglected works of the past. He wrote the definitive book on the history of the New York Philharmonic.
ALS-10732
$800