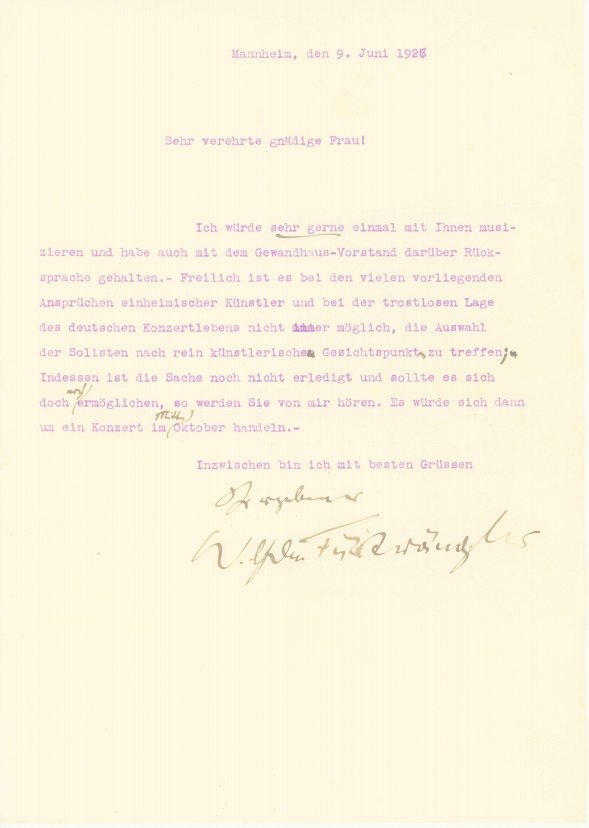 Click Image to Zoom
Enlarge Image
Furtwängler, Wilhelm (1886-1954)
Typed Letter Signed
"Wilhelm Furtwängler". June 9, 1926 [7?]. 1 p. of a large sheet. Several original ink emendations. Creased, otherwise excellent condition.
A nice letter, boldly signed, in which the eminent conductor is writing to the Polish soprano Marya Freund: I would be most happy to play music with you some time and I have had a conference on that very point with the [Leipzig] Gewandhaus Directorate. What with the many present demands of domestic artists and the bleak situation of German concert life, I confess it is not always possible to choose a soloist with a clear artistic point of view. Meanwhile, the matter is not yet settled, and should negotiations be made possible, you will hear from me. It would then be a question of a concert in mid-October.
Marya Freund was an important interpreter of contemporary early-twentieth century composers and a close friend of several, including Milhaud, Poulenc, Ravel, and Schoenberg. This letter was acquired by us from her son, the baritone Doda Conrad.
ALS-10492
$600