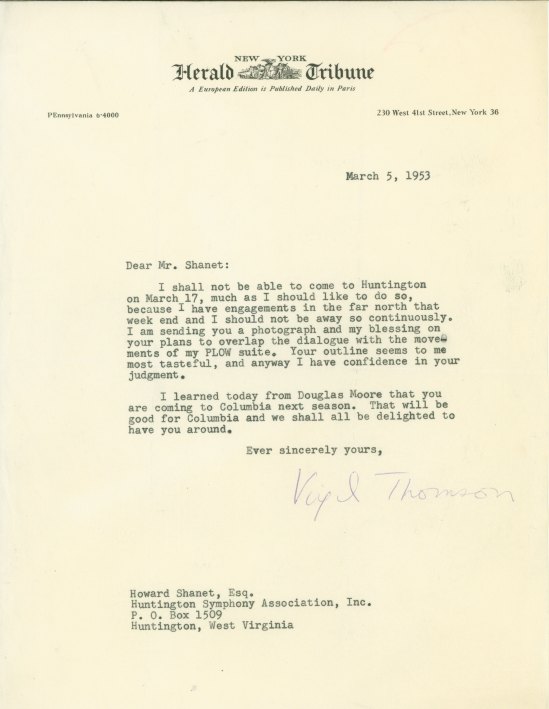 Click Image to Zoom
Enlarge Image
Thomson, Virgil (1896-1989)
Typed Letter Signed
"Virgil Thomson". To "Mr. [Howard] Shanet". New York, March 5, 1953. 1 p. on New York Herald Tribune letterhead. In excellent condition.
The composer sends a photograph and my blessing on your plans to overlap the dialogue with the movements of my PLOW suite. Your outline seems to me most tasteful, and anyway I have confidence in your judgement. He concludes the letter saying that he heard from Douglas Moore that Shanet is coming to Columbia next season. That will be good for Columbia and we shall all be delighted to have you around.
The American composer and prominent critic Virgil Thomson is known for several works which are still frequently played, including
The Plow that Broke the Plains
, to which he refers in this letter. This piece was written as a film score in 1936 (sponsored by the United States Resettlement Administration), from which he extracted the aforementioned suite in the same year. One assumes that Thomson is referring to overlapping the dialogue from the film.
Thomson is writing to Howard Shanet, who indeed joined the faculty of Columbia University, where he eventually headed the music performance program and went on to become a well-known conductor and writer on music, noted especially for his support of new music as well as neglected works of the past. He also wrote the definitive history of the New York Philharmonic.
ALS-10394
$250