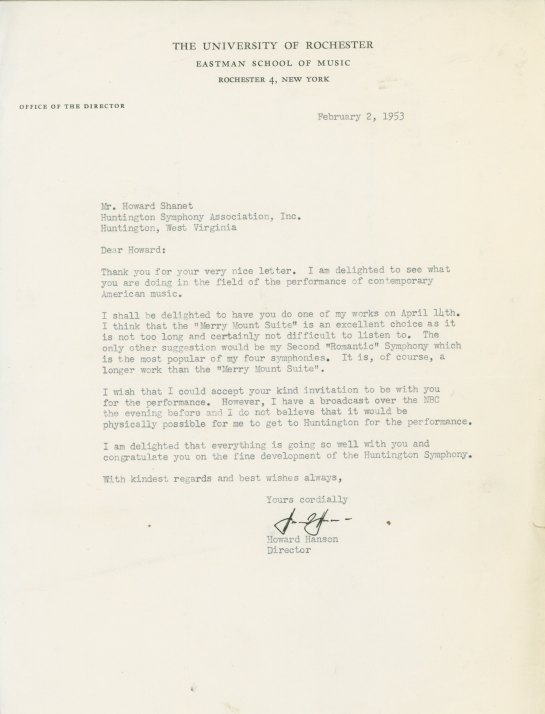 Click Image to Zoom
Enlarge Image
Hanson, Howard (1896-1981)
Typed Letter Signed
"Howard Hanson". To Howard Shanet. Feb. 2, 1953. 1 p. on Eastman School of Music stationery. Fine, except for small tear on right margin.
The important American composer writes that he will be delighted to have you do one of my works on April 14th. I think that the "Merry Mount Suite" is an excellent choice as it is not too long and certainly not difficult to listen to. The only other suggestion would be my Second 'Romantic' Symphony which is the most popular of my four symphonies. It is, of course, a longer work than the "Merry Mount Suite." He concludes with congratulating the recipient on the fine development of the Huntington Symphony.
The
Romantic Symphony, which remains today Hanson's most popular work, was written 1928-30. The piece was commissioned for the fiftieth anniversary of the Boston Symphony Orchestra, which performed it on November 28th, 1930 with Koussevitzky conducting. The Merry Mount Suite was composed in 1937 and derived from his three-act opera, Merry Mount, written in 1933 and commissioned by the Metropolitan Opera.
Howard Shanet was a Columbia University-based conductor and writer on music, noted especially for his support of new music as well as neglected works of the past and as author of the definitive book on the history of the New York Philharmonic.
ALS-10384
$175