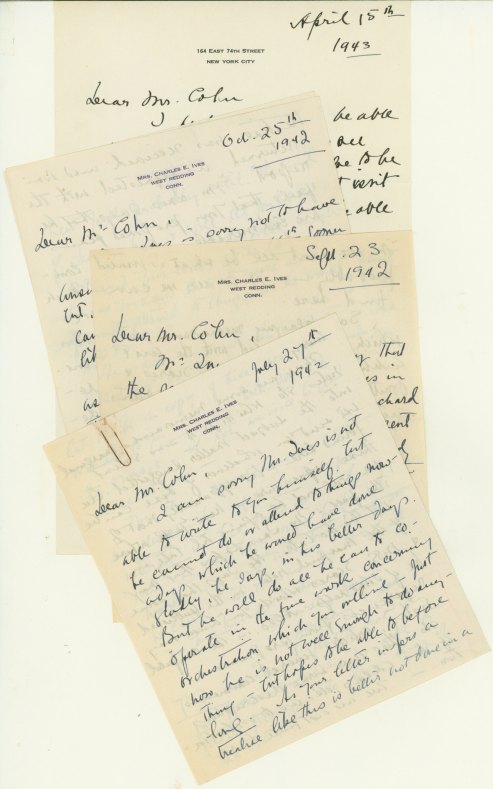 Click Image to Zoom
Enlarge Image
Ives, Charles (1874-1954)
Four Autograph Letters by Charles Ives's Wife Signed
"Harmony T. Ives". To Arthur Cohn. West Redding, Connecticut and New York, 1942-1943. Small octavo (New York letterhead, 3); octavo (Connecticut letterhead, 1). 9 pp. total. In excellent condition with typical folds. One letter with paperclip mark at upper left, another with staple holes.
Ives is happy to promulgate his thoughts on orchestration.
Four letters from Ives's wife, Harmony Twitchell Ives, writing on the composer's behalf in response to Arthur Cohn's request for information on Ives's approach to orchestration, which Cohn intends to use in a new book on the subject. Ives had been ill since 1930 when he was diagnosed with severe diabetes and dictated his correspondence thereafter. These letters therefore are as close as one gets to an original letter in Ives's hand. Harmony Twitchell writes that her husband cannot do or attend to things nowadays which he would have done gladly, he says, in his better days …he deeply appreciates your interest in his music - he only wishes he could be of more help in the work - and will try to do all he can.
Across the four letters, the Ives's express enthusiasm for Cohn's new project and grants Cohn permission to use whatever of Ives's music he deems useful. She directs to various editions of Ives's music and arranges for several notes and scores to be sent to Cohn separately, including those for Three Pieces in New England and the Fourth Symphony, and repeatedly apologizes that Ives cannot write himself on account of his poor health. In one letter, evidently written after Cohn shared his outline for the book, Mrs. Ives notes that her husband was disappointed not to find any mention of Carl Ruggles's music in the plans but otherwise found them very promising.
Arthur Cohn was a publisher, conductor, and orchestrator and longtime Director of the publishing house Carl Fisher. He was an enthusiastic promoter of contemporary music and was responsible for publishing many of Ives's works. When he began a book on orchestration, several leading American composers enthusiastically offered him their input and music, just as the Iveses do in these letters. Although Cohn never finished the project, which was to be titled The Art and Science of Orchestration, his drafts, notes, illustrations, and research clippings are intact at the New York Public Library.
Harmony was a former president of the Mark Twain Society, her family having been a friend of the author's for years.
ALS-10372
$2,500