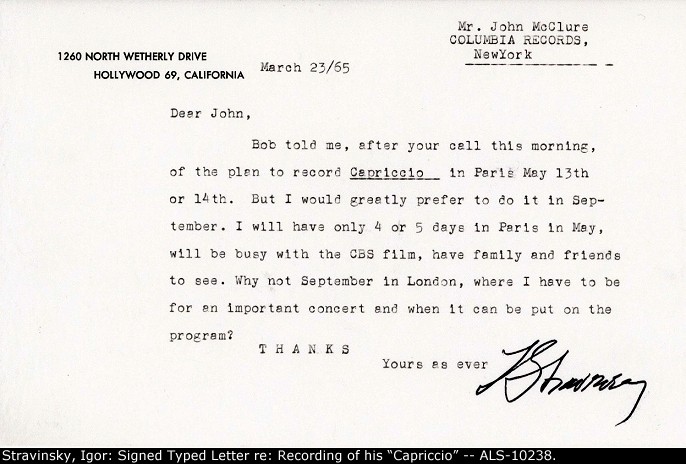 Click Image to Zoom
Enlarge Image
Stravinsky, Igor (1882-1971)
Typed Letter Signed
"I Stravinsky". To John McClure, Columbia Records. Mar. 23, 1965. Half sheet of onion skin. Fine condition.
Stravinsky writes:
"Bob told me, after your call this morning, of the plan to record Capriccio in Paris May 13th or 14th. But I would greatly prefer to do it in September. I will have only 4 or 5 days in Paris in May, will be busy with the CBS film, have family and friends to see. Why not September in London, where I have to be for an important concert and when it can be put on the program?"
Stravinsky played the piano in the premiere of Capriccio in Paris, 1929, Ernst Ansermet conducting. It was one of a few virtuosic pieces Stravinsky had written to help support himself after fleeing the Russian revolution. He revised it in 1949.
ALS-10238
$1,000