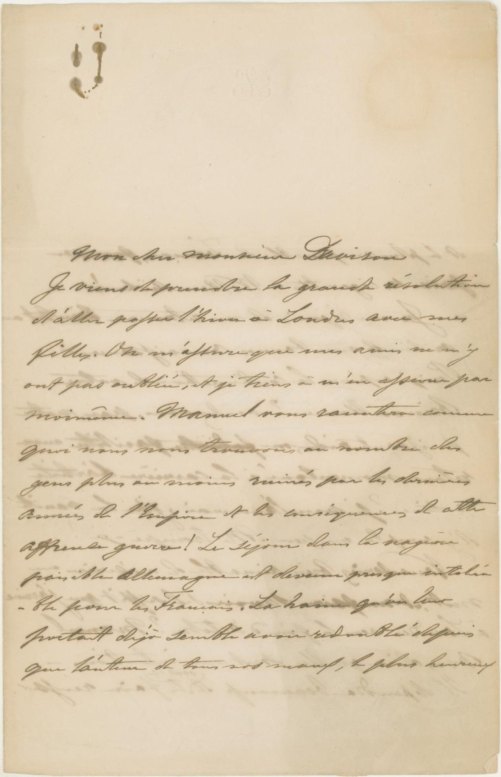 Enlarge Image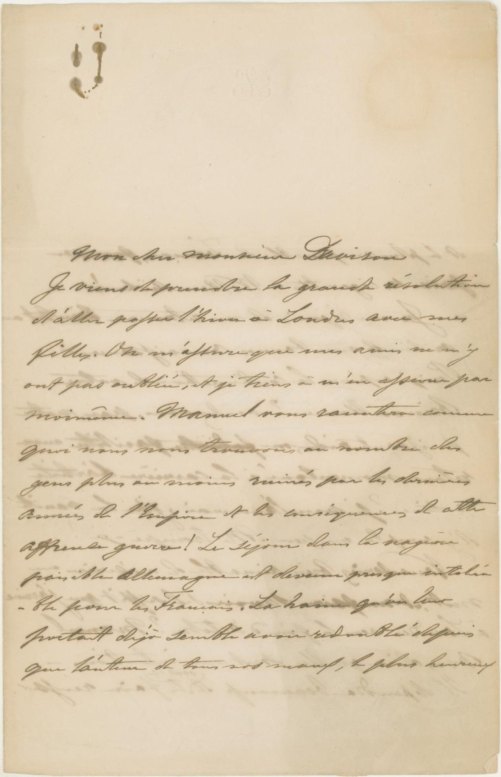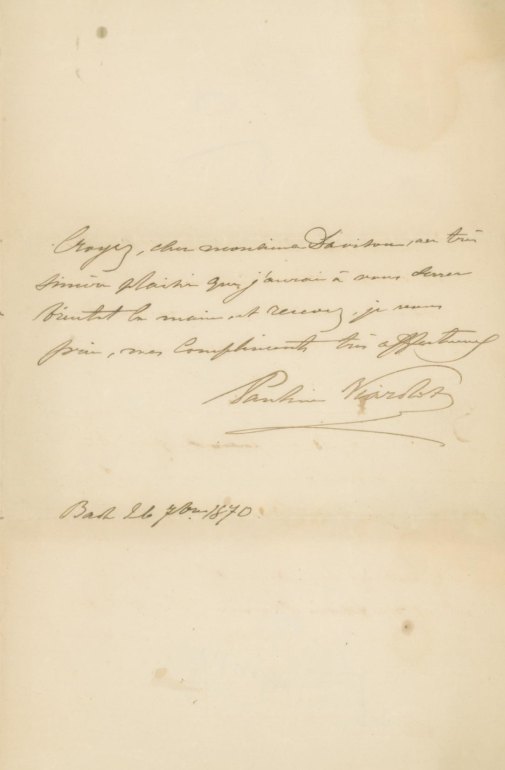 Viardot, Pauline (1821-1910)
Autograph Letter Signed
"Pauline Viardot". "My dear Mr. Davison". Bath, September 26, 1870. 8.5" h x 5.5" w. 3 pp, on double-sided page, folded. Good. Light bleed through and a paper clip stain (not affecting text).
Viardot and the Franco-German War.
The illustrious and influential French dramatic mezzo-soprano, composer, and pedagogue writes about the war with Germany and her contempt for the Germans and Napoleon III and requests Davison's help with her return to London. We find ourselves at the moment as people more or less ruined by the last years of the Empire and the consequences of this terrible war. The hate one felt for them already seems to have doubled. She is looking forward to returning soon to the environment of my good acquaintances and to an active artistic career…I will confess to you that I have the vanity to count on it a bit.
In this letter Viardot refers to the Franco-German War. She had fled France because of her husband's opposition to Napoleon III. After living in both Germany and England, she returned to France after Napoleon's fall, resuming her career and teaching at the Conservatoire.
Napoleon III declared war in July of 1870 against Prussia and the allied German states. After a brief conflict, he surrendered on September 2 of 1870, shortly before this letter, and France's Third Republic was proclaimed. Napoleon III was released by the Germans and went to live in England, where he died in 1873.
ALS-08820
$550