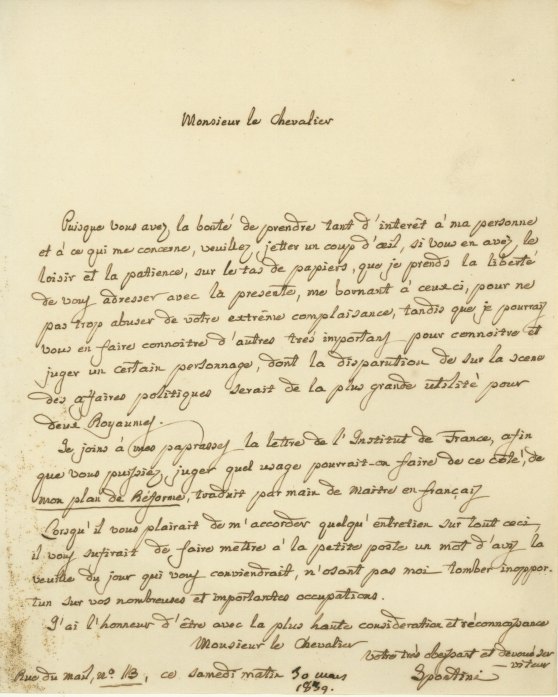 Click Image to Zoom
Enlarge Image
Spontini, Gaspare (1774-1851)
Autograph Letter Signed
"Spontini". To "Monsieur le Chevalier". March 30, 1839. One page of a folded sheet. Very good; some light soiling in lower left-hand corner. With full translation.
A letter of biographical interest from the writer of Las Vestale, who boldly endeavors in French to arrange a meeting with an aristocratic recipient, seemingly in an effort to restore his good name in Paris: please cast a glance, if you have the leisure and patience, on the stack of papers which I take the liberty to send you... I could acquaint you with other very important works so that you would know and judge a certain personality whose disappearance from the political scene would be of greatest use for two kingdoms.
In 1819 Italian opera composer Gaspare Spontini left Paris to become the music director of the Berlin court. He hoped to gain more prestige there, his reputation having fluctuated during his years in France, but the German people resented that the important position had been given to a foreigner. Frustrated, Spontini began planning his return to Paris at the end of the 1830s; this letter provides a glimpse into those efforts.
ALS-08093
$650